La Petite Lili
(2004)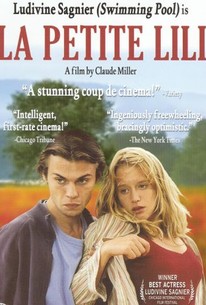 Movie Info
When the young and overly sensitive filmmaker Julien screens his new DV art-film starring his girlfriend Lili--a sexy young local girl--to his famous actress mother Mado, and her lover Brice, an accomplished film director, an unraveling of the delicate peace in their house begins. The graceful beauty Lili, who dreams of becoming a famous actress like Mado, is immediately fascinated by Brice, who gladly falls prey to her charms. Lili's ambitions will stop at nothing and she soon seduces Brice into leaving Mado to take her to Paris so she can become a movie actress. Mado and Julien are left to pick up the pieces of their disrupted lives, and for Julien the loss is almost fatal. Five years later, Julien, now a more established filmmaker, remakes a fictionalized account of this disastrous love quadrangle, which nearly destroyed him. He reunites the characters--based on Mado, Brica and Lili--in his first, highly autobiographical, feature film. In real life, Lili is no longer with Brice, but indeed, she has become a famous actress. When she learns of Julien's new film, and that it's about that tempestuous summer of five years past, she tries to reconnect with him.
Critic Reviews for La Petite Lili
Audience Reviews for La Petite Lili
½
Unlike one review I read, I thought the film started out quite slowly and got more interesting as it went along. The characters were covered with some depth, but overall I didn't find quite enough to make watching too worthwhile.
Jeff B
Quite an entertaining tale of a young girl taking advantage of what is before her to launch a career in film. There are scars, and hearts are broken, but life goes on. One time lovers Lili (Ludivine Sagnier) and Julien (Robinson Stevenin) collaborate on a short film that gets her noticed by Julien's mother's lover, a french movie director, Brice (Bernard Girardeau). Lili leaves with the older man and thereby becomes a star. When she finds out that Julien is making a film about the events of that summer, she angles for the part to play herself. Will the former lovers be able to set aside past hurts, or will the memory of old wounds open new rifts? On this the film hinges. Lots of lovely scenery, including a fully nude Sagnier early on, but a clear winner with or without it. Touching story that felt honest in the company of people to whom honesty is not seen as a virtue.
Mark Abell
Super Reviewer
½
Great cast. Love the opening, very powerful images and beautiful cinematography. To quote this movie, La Petite Lili strikes me as if "someone is squzzing my heart...". I think Perfume used the same theme music. Great movie! One of the best adaptation for a classic literature(altho I havent read The Seagull, now I reallly want to). Also, Ludivine Sagnier got to show off her curvy sexy body in the begining.
Annie Chen
La Petite Lili Quotes
There are no approved quotes yet for this movie.
Discussion Forum
Discuss La Petite Lili on our Movie forum!