La pirogue
(2013)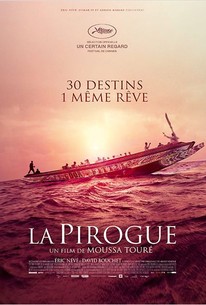 Movie Info
Baye Laye is the captain of a fishing pirogue. Like many of his Senegalese compatriots, he sometimes dreams of new horizons, where he can earn a better living for his family. When he is offered to lead one of the many pirogues that head towards Europe via the Canary Island, he reluctantly accepts the job, knowing full-well the dangers that lie ahead. Leading a group of 30 men who don't all speak the same language, some of whom have never seen the sea, Baye Laye will confront many perils in order to reach the distant coasts of Europe. (c) ArtMattan
News & Interviews for La pirogue
Critic Reviews for La pirogue
Audience Reviews for La pirogue
½
Baye Laye(Souleymane Seye Ndiaye) has been recruited by Lansana(Laity Fall) to captain a pirogue to Spain, consisting of thirty men. On the one hand, Baye Laye is reluctant to leave his family behind, but does not feel comfortable with having young Kaba(Babacar Oualy), who dreams of playing soccer in Spain, in charge either. What eventually sways him in going is the increase in the fee. And everything goes smoothly at first at sea even with different tribes being represented, including those from Guinea who have never even seen the open sea before. And then Nafy(Mame Astou Diallo) is discovered as a stowaway. As social drama, "The Pirogue" does its job in shining the light on the plight of those who are desperate enough to risk their lives to make a new life for themselves in Europe. According to the endnote, from 2005 to 2010, 30,000 started out from Africa, with 5,000 dying en route. The point being made here is that even with the most meticulous preparations, some things cannot be accounted for.(Or in other words, there is no such thing as an atheist on the open seas.) Even though a documentary might not have been the best route, this dramatic presentation is far from perfect, either, even as it is well filmed. To be honest, the movie should actually have been longer, as it is rather anticlimactic.
La pirogue Quotes
There are no approved quotes yet for this movie.
Discussion Forum
Discuss La pirogue on our Movie forum!