La Pointe-Courte
(1954)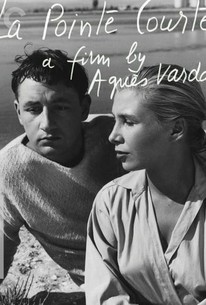 AUDIENCE SCORE
Critic Consensus: No consensus yet.
Movie Info
At the time of its release, much was made of the fact that La Point Courte was directed by a mere "25-year-old girl". That girl was professional photographer Agnes Varda, later hosannahed by aficionados as "The Grandmother of the New Wave." Covering a wide ranging of sociopolitical issues, Varda's first cinematic effort, reportedly lensed on a budget of $20,000, is virtually two films in one, developed in parallel fashion. The twin storylines concern the simultaneous efforts of a husband and wife to mend their broken marriage, but Varda's interests clearly lie in what occurs around the two plotlines rather than the linear progression of the stories themselves. Edited by Alain Resnais, La Point Courte was initially dismissed by some shortsided American critics as being "too arty;" it has since been assessed by one critic as "the first film of the French nouvelle vague . Its interplay between conscience, emotions and the real world make it a direct descendant of Hiroshima, Mon Amour."
Cast
Critic Reviews for La Pointe-Courte
All Critics (1) | Fresh (1) | Rotten (0)
The sublime depiction of a marriage on the rocks is skilfully presented in an innovative way against the daily life of the small Mediterranean fishing village.
Audience Reviews for La Pointe-Courte
½
Sometimes presented as the first film of the French New Wave, "La Pointe-Courte" arrived long before more iconic landmarks like "Breathless" and "The 400 Blows." Director Agnes Varda surveys life in a quaint seaside village, focusing primarily on a troubled couple visiting from Paris (the man is the young Phillippe Noiret, who will be barely recognizable to contemporary fans familiar with his more elderly roles), a pair of naive lovers whose father stands in the way of their courtship and the threat that government regulations pose to the local fishing trade. The tone is charmingly gentle, with a camera meandering between little houses as melancholy clarinets ambiently chirp on the soundtrack. For better or worse, the main couple's dialogue obviously anticipates the later work of directors like Alain Resnais (who is this film's editor) and Jean-Luc Godard -- the two scarcely show any emotion, and instead tend to just abstractly muse about love while looking into the distance. Not too engaging, and such meditations eventually wear out their welcome.
Eric Broome
Super Reviewer
½
arguably nouvelle vague began here. remarkably fresh and original film made by 25 yr old varda, a professional photographer with no prior film experience. shot on location in a small fishing village in south of france, an area where varda lived as a child, it is simultaneously a documentary on the simple life of the people there, and a portrait of a visiting couple's dissolving marriage, played by actors. alain resnais was the editor on this film and it's influence on 'hiroshima mon amour' is fairly obvious. an amazing debut
Stella Dallas
Super Reviewer
I love this film! The juxtaposition of the stories, the camera movement, tight composition and framing. The story of the town reminds me of a neo-realist film (e.g. La Terra Treme). The story of the couple feels Antonionian (the alienation trilogy) , but with dialogue. What amazes me is that Varda had never seen a neo-realist film, so there was no chance of influence.
Stefanie C
Super Reviewer
La Pointe-Courte Quotes
There are no approved quotes yet for this movie.