La Promesse (The Promise)
(1996)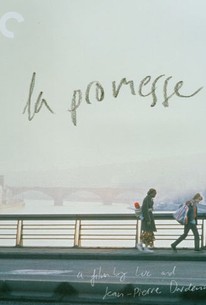 La Promesse (The Promise) Photos
Movie Info
A young man born into criminal circumstances is forced to deal with his conscience in this drama from Belgium. Roger (Olivier Gourmet) is a corrupt businessman who smuggles illegal aliens into Antwerp and protects them from the law in exchange for working with his construction company. However, Roger pays meager wages for back-breaking labor and charges aliens appallingly high rent for substandard housing. Roger has a 15-year-old son, Igor (Jeremie Renier), who has learned from his father to steal and twist the truth; Igor is loyal to Roger, despite his father's frequent violence against him. One day, Amidou (Rasmane Ouedraogo), one of the illegals working for Roger, falls from a construction site; as he is dying, Amidou begs Igor to watch over his wife Assita (Assita Ouedraogo) and their child. While Roger and his partners try to keep the death a secret to avoid police interference, Igor constructs an elaborate web of lies to ease the concerns of Assita, who does not know that her husband has passed. Before long, Igor's loyalties are torn between his concern for his father's safety and his guilty affection for Assita. La Promesse was voted the Best Foreign Language Film of 1997 by America's National Society of Film Critics. ~ Mark Deming, Rovi
News & Interviews for La Promesse (The Promise)
Critic Reviews for La Promesse (The Promise)
Audience Reviews for La Promesse (The Promise)
Wow! Another great film from the Dardenne. I truly believe that they are incapable of making anything less than a gripping tale.
John Ballantine
Super Reviewer
A grim but hopeful film that shows us the birth of a consciousness.
Robert Fearon
Super Reviewer
½
[font=Century Gothic]"La Promesse" is about Roger(Olivier Gourmet) who runs a thriving business smuggling, housing and exploiting illegal aliens in Belgium with his son, Igor(Jeremie Renier). Igor works as an apprentice to a mechanic(he pockets a woman's wallet while working there) and in his spare time makes his own personal go-cart. One of the latest arrivals is Assita(Assita Ouedraogo) from Burkina Faso who is a young mother and married to one of the tenants, Amidou(Rasmane Ouedraogo). During a raid by labor inspectors, Amidou falls from scaffolding and is gravely wounded. He has Igor promise to take care of his wife and child. Amidou dies after Roger refuses to take him to a hospital. Father and son conspire to cover up the death.[/font] [font=Century Gothic][/font] [font=Century Gothic]"La Promesse" takes a neo-realist approach in telling this story. Since the movie is told mostly from Igor's point of view, this does limit its depth. It is still a good dramatic movie but it lacks the emotional resonance to make it truly memorable. And it is interesting to imagine what Igor would be like without such a rotten role model like Roger...[/font]
La Promesse (The Promise) Quotes
There are no approved quotes yet for this movie.