La Ronde
(1950)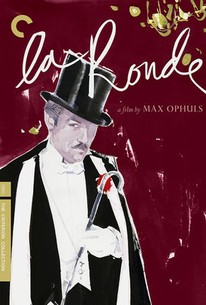 Movie Info
An exercise in style, La Ronde was one of the few films of the 1950s to contain overtly sexual themes. The story is a series of character vignettes, set in Vienna in the early 1900s and held together by a narrator (Anton Walbrook). As the title implies, both the story and the film's visual motifs are circular. Director Max Ophuls uses an old-fashioned merry-go-round to foreshadow the film's events, in which each segment introduces a new character, who has an affair with a character from the previous scene. The film demands that the audience pay attention to the structure, to the interplay among the characters, and to the opulent visual elements; and the effect is synergistic delight, in which the viewer is engaged both visually and intellectually. Because it was filmed in black-and-white, La Ronde does not have the garish look of some of Ophuls' other films, notably Lola Montès. La Ronde is among the few foreign language films to receive multiple Oscar nominations, for Black & White Art Direction and Best Adapted Screenplay. ~ Richard Gilliam, Rovi
Rating:
NR
Genre:
, ,
Directed By:
Written By:
In Theaters:
On DVD:
Runtime:
Studio:
Criterion Collection
News & Interviews for La Ronde
Critic Reviews for La Ronde
Audience Reviews for La Ronde
½
Couldn't care about any of the characters, none of the stories stood out much. The movie might have been cutting edge back in its day, but now mostly appears creaky. Apparently nothing bores me more than French aristocracy, most of the movies dealing with characters from the French upper classes bores me to tears.
Matt Heiser
A sexy and charming film by Max Ophuls about the circle of love, symbolized by a carousel. Anton Walbrook is a narrator of sorts, or maybe a one-man chorus, who leads us through a chain of events where one romance leads to another. This is the 2nd film with Walbrook that I've seen in as many months, and I finding that I enjoy his work a great deal. I'm not a fan of musicals, and when Walbrook started singing in the beginning, I was tempted to turn it off. I'm glad I didn't. Some clever dialogue and a fun scene where the carousel breaks down at the same time that one of the male characters has a...ummm..."equipment malfunction". He gets his groove back eventually, and the carousel begins working again. The film is filled with what seemed to be every known French actress working during that time...Simone Signoret, Simone Simon, Danielle Darrieux. Full of sexual situations (obviously French -- a Hollywood film made in 1950 would NEVER have been this racy and open), so watch it with someone you love.
The blooming interactions of couples,romantic,idealistic,majestic.Fragmentary affairs,juxtapositions in lifelong particles.The question is,do we really accept those 6 degrees of separation or the carousel will embrace us all.
Dimitris Springer
Super Reviewer
La Ronde Quotes
There are no approved quotes yet for this movie.