La Salamandre (The Salamander)
(1972)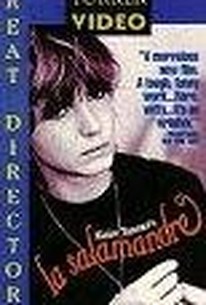 AUDIENCE SCORE
Critic Consensus: No consensus yet.
La Salamandre (The Salamander) Photos
Movie Info
This Swiss-made film closely examines the character of a non-conformist, a subject of unending interest to the reputedly highly conformist Swiss. A TV journalist reads of a lawsuit, dropped for lack of evidence, in which a girl is accused of deliberately shooting (and wounding) her uncle. For some reason, this piques his interest, and the journalist even goes so far as to talk a novelist friend of his into joining him in researching the incident. As their research and interviews proceed, it becomes clear that they have no interest in the actual truth of the incident, but are more concerned to dig deeply (each in his own way) into the characters of the girl and her uncle. One memorable scene has the girl, while serving as a shoe store salesperson, fondling the legs of her customers. ~ Clarke Fountain, Rovi
Rating:
NR
Genre:
, , ,
Directed By:
Written By:
In Theaters:
On DVD:
Runtime:
Studio:
New Yorker Films
Critic Reviews for La Salamandre (The Salamander)
There are no critic reviews yet for La Salamandre (The Salamander). Keep checking Rotten Tomatoes for updates!
Audience Reviews for La Salamandre (The Salamander)
Alain Tanner's "The Salamander" Public intellectuals and liberation of Rosemonde Rosemonde is an existentially gifted girl from a poor family who is neglected by the culture, abused by people and exploited by the system that keeps her on mechanical job and cheap mindless entertainment. When impoverished intellectuals appear in her life she gradually starts to feel that she as if was waiting for them since her childhood. Relations with them make her understand her weaknesses and potentials and taught her to respect her humanity and be intellectually alert. "The Salamander" is Tanner's early attempt to find a political meaning in personal friendship in an epoch when progressive political agenda either becomes petty and purely financially oriented or streamlined and dissolved into conformism. The most fascinating aspect of the film is Tanner's depiction of the creative process of trying to understand the world better as a part of personal relations. What always was considered as the function of individual mind became a function of actual existential togetherness. We see how intellectual process can be not retrospectively but future-oriented and be the very living through friendship. Read the article about Tanner' film "One Liberated Human Face in the Crowd of Somnambular Shoppers" and analyses of the film's shots, and articles about films by Godard, Resnais, Bergman, Kurosawa, Pasolini, Cavani and Bertolucci at: www.actingoutpolitics.com by Victor
katia baghai
Two writers take on a job to write a script based on a recent event where a man claimed that his niece shot him with his army rifle, while she says that he shot himself while cleaning it. One writes the story based on imagination while the other does it through personal investigation. The film drifts into a character study of the impulsive nonconformist woman, played by Bulle Ogier, who drifts from one menial job to another. The lackadaisical pacing and playfulness of the film is very enjoyable. It's shot in a verite style, at times it feels like a Hong Sang Soo film, at times a Rivette minus the surreal/crazy parts.
X. T. C.
[font=Century Gothic]"La Salamandre" starts with an incident that could be interpreted in two ways:[/font] [font=Century Gothic][/font] [font=Century Gothic]A. Rosemonde(Bulle Ogier) deliberately tried to kill her uncle(Marcel Vidal) with his army rifle.[/font] [font=Century Gothic][/font] [font=Century Gothic]B. The gun went off accidentally while he was cleaning it.[/font] [font=Century Gothic][/font] [font=Century Gothic](The result is the same. He lives with a nasty scar on his shoulder that he likes to show off.)[/font] [font=Century Gothic][/font] [font=Century Gothic]While writing an article about Brazil, Pierre(Jean-Luc Bideau) receives an offer to write a script about the above case. Already busy, he elicits the help of a fellow writer and friend, Paul(Jacques Denis). Paul's approach is to rely solely on his imagination, quickly coming up with the notion that Rosemonde is of a very large family. Pierre instead takes the route of journalism, looking for Rosemonde, now 23, and working in a sausage factory.[/font] [font=Century Gothic][/font] [font=Century Gothic]"La Salamandre" starts with a singular great idea for a movie but instead of letting the imagination go wild, takes a literal route which results in a very talky movie that goes on a little too long, in search of an ending. But on the other hand, a realistic approach does help when it comes to the matter of work which is at the heart of the matter. Rosemonde is not thrilled at the prospect at working the next 40 years at a menial job. Yes, there are people who do but they have to, which is a fate that she is trying to avoid. Since neither seem to understand women that well, Paul and Pierre take the job writing her story because they need the money. Otherwise, Paul would be painting houses to support his family.(I do not think Paul's true love is writing, either. It is music but that would never pay the bills.) [/font]
La Salamandre (The Salamander) Quotes
There are no approved quotes yet for this movie.
Discussion Forum
Discuss La Salamandre (The Salamander) on our Movie forum!