La sentinelle
(1992)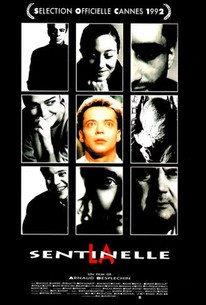 AUDIENCE SCORE
Critic Consensus: No consensus yet.
Movie Info
Mathias (Emmenuel Salinger), an intern at a French hospital, makes a shocking discovery after returning from a trip -- a shrunken head somehow found its way into his luggage. Mathias is determined to find out where it came from, who it belonged to and how it got in his bag. However, his persistent questions attract the attention of the French Secret Service, who have information regarding the head that they would prefer not become public knowledge.
Rating:
NR
Genre:
,
Directed By:
Written By:
In Theaters:
On DVD:
Runtime:
Studio:
Why Not Productions
Critic Reviews for La sentinelle
Audience Reviews for La sentinelle
here is some kierkegaard for you: [i]It is told that there was once a man who through his misdeeds deserved the punishment which the law meted out to him. After he had suffered for his wrong acts he went back into ordinary society, improved. Then he went to a strange land, where he was not known, and where he became known for his worthy conduct. All was forgotten. Then one day there appeared a fugitive that recognized the distinguished person as his equal back in those miserable days. This was a terrifying memory to meet. A deathlike fear shook him each time this man passed. Although silent, this memory shouted in a high voice until through the voice of this vile fugitive it took on words. Then suddently despair seized this man, who seemed to have been saved. And it seized him just because repentance was forgotten, because the improvement toward society was not the resigning of himself to God, so that in the humility of repentencehe might remember what he had been. For in the temporal, and sensual, and social sense, repentance is in fact something that comes and goes during the years. But in the eternal sense, it is a silent daily anxiety. It is eternally false, that guilt is changed by the passage of century. To assert anything of this sort is to confuse the Eternal with what the Eternal is least like- with human forgetfulness[/i]. (45) i have a fear of this kind of bad faith...selling out. (edit: the concept of 'selling-out' is a metaphysical study) [i]And the sea, like the wise man, is sufficient unto itself. Whether it lies like a child and amuses itself with its soft ripples as a child that plays with its mouth, or at noon lies like a drowsy thinker in carefree enjoyment and allows its gaze to wander over all, or in the night ponders deeply over its own being; whether in order to see what is going on, it cunningly conceals itself as though it no longer existed, or whether it rages in its own passion: the sea has a deep ground, it knows well enough that it knows. That which has that deep ground always knows this; but there is no sharing of this knowledge.[/i] (48) i am merely passing this on. i often feel inauthentic and fake which is just a part of my (our) self-doubt. sartre claimed that however hard we tried to become authentic, however solid we believed we were in our being, that we would always be conscious and aware of our movements and thus can never truly be what we would like to become. [i]Now the unspeakable is like the murmuring of a brook. If you go buried in your own thoughts, if you are busy, then you do not notice it all in passing. You are not aware this this murmuring exists. But if you stand still, then you discover it. And if you have discovered it, then you must stand still. And when you stand still, then it persuades you. And when it has persuaded you then you must stoop and listen attentively to it. And when you have stooped to listen to it, then it captures you. And when it has captured you, then you cannot break away from it, then you are overpowered. Infatuated, you sink down at its side. At each moment it is as if in the next moment it must offer an explanation. But the brook goes on murmuring, and the wanderer at its side grows older. [/i](49) [right][img]http://www.danskekonger.dk/biografi/andre/pict/kierkegaard.jpg[/img][/right] [right][u][b]Purity of Heart: Is to Will One Thing[/b][/u][/right] [left]...[/left] [left][img]http://www.alyon.org/generale/theatre/cinema/affiches_cinema/l/la_sa-lam/la_sentinelle.jpg[/img][/left] here is a another very good french film: [b]La Sentinelle[/b]. firstly, the protagonist looks identical to the priest in [i]Bresson's[/i] [b]Diary of a Country Priest[/b]. wide eyed, somber face...shy. the same kind of anxiety is exhibited in his movements and his alienation from the bourgeois that he grew up with. it's partly a thriller, part study of the human body and it's socio-political constrictions. betwixt an 8 and 9.
Water Cooler
Discussion Forum
Discuss La sentinelle on our Movie forum!