L.A. Takedown
(1989)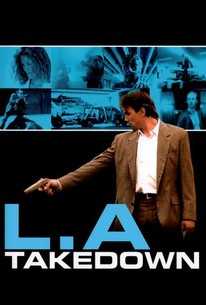 AUDIENCE SCORE
Critic Consensus: No consensus yet.
Movie Info
Producer/director Michael Mann, kappelmeister of the trendy TV series Miami Vice, tried to impose his MTV mentality on Tinseltown with L.A. Takedown. Los Angeles cop Scott Plank is on the trail of master thief Alex McArthur. After McArthur pulls off "the score of a lifetime," the crook and the cop spend the rest of their screen time in a deadly game of one-upsmanship. The usual Michael Mann trademark of style over substance prevails throughout L.A. Takedown. But the vogue had passed, and this TV pilot film failed to graduate into a series.
Rating:
NR
Genre:
, , ,
Directed By:
In Theaters:
Runtime:
Studio:
Movies Film Productions
Critic Reviews for L.A. Takedown
All Critics (3) | Fresh (1) | Rotten (2)
...although L.A. Takedown is about half the length of Heat, the movie feels so much longer and poorly-paced than its big-screen successor...

A film much better written than executed... has the appearance at every moment of a hatchet job that got cranked out in record time because nobody involved had any real desire to make it.

Audience Reviews for L.A. Takedown
A fine Michael Mann directed film, done in his "Miami Vice" way. Fabulous cinematography. Not always sure of what was going on in the dialog, but action supreme. [img]https://encrypted-tbn0.gstatic.com/images?q=tbn:ANd9GcSg0Q6Lf4TvXBkNbJLgGR1Ti2wjqh55z9bOCF5DAq8m2cTiewuk_Q[/img] Miami Vice SEE the trailer here: http://www.youtube.com/watch?v=xF1nglDFWr4 [img]https://encrypted-tbn3.gstatic.com/images?q=tbn:ANd9GcQ_oEWr2XBeidKjyvN8a4R13N5zIHqWGLTyDznlGFDLk1qBEGu9[/img] In late 1995, Mann released Heat, which he directed from his original script. Heat was made with an ensemble cast including Robert De Niro, Al Pacino and Val Kilmer. Heat was met with critical acclaim and became a financial success. SEE the entire film here: https://www.youtube.com/watch?v=iFsPDzSbgts L.A. Takedown is a crime/thriller made for TV movie that aired on NBC on August 27, 1989 at 9 pm. It was written and directed by Michael Mann, and its ensemble cast includes Scott Plank, Alex McArthur, Michael Rooker, Daniel Baldwin, and Xander Berkeley. [img]https://encrypted-tbn3.gstatic.com/images?q=tbn:ANd9GcSYEGgCkhCbQTIEAEazpOIWJcoHi3qNTnhA8XUIXChuBNFiwaW8fw[/img] NOTES: 1 The majority of the main cast appeared as guest stars in episodes of one or both of Michael Mann's two shows produced in the 1980s, Miami Vice and Crime Story. 2 After making The Last of the Mohicans, Mann returned to a 1986 draft of L.A. Takedown, viewing the TV movie as a dry run for the film he had originally written, which was intended as a much more complex and elaborate story. [img]http://img301.imageshack.us/img301/5681/fiveqb1.jpg[/img] CAST Scott Plank as Vincent Hanna Alex McArthur as Patrick McLaren Michael Rooker as Bosko Ely Pouget as Lillian Hanna Vincent Guastaferro as Michael Cerrito Laura Harrington as Eady Peter Dobson as Chris Sheherlis Xander Berkeley as Waingro Daniel Baldwin as Bobby Schwartz Cary-Hiroyuki Tagawa as Hugh Benny [img]http://i1.ytimg.com/vi/xF1nglDFWr4/hqdefault.jpg[/img] Distributed by NBC Directed by Michael Mann Produced by Patrick Markey Written by Michael Mann Music by Tim Truman Cinematography Ron Garcia Editing by Dov Hoenig Release date 1989 Running time 92 min. [img]https://encrypted-tbn2.gstatic.com/images?q=tbn:ANd9GcR4GOkRLyPNghZXRVdqanJs2PwEamfkkYM1LqReig4OWsAf9ARR3w[/img]
monsieur rick
This is my new #1 reason why remakes are a GOOD THING!!! Holy God. What if Heat was Miami Vice the show? This. Starring Adam Sandler and Jean Claude Van Damme. Make it go away Movie God... Make the pain stop. I feel so bad for Mann and I am happy as punch that he later got a REAL budget to make his VERSION as intended.
Robert Iwataki
½
Worth seeing if you're a fan of Michael Mann and curious as to how he developed "Heat", which is pretty much his unquestioned masterpiece. Imagine that film on 1/10th of the budget and with almost uniformly horrible actors. Xander Berkeley is the standout here, playing the loathsome Waingro with relish to burn. The sap who plays Vincent Hanna delivers such a charisma-free performance that he must have been some non-actor that Mann found living at a bus station. One major difference: Act 3 was almost completely overhauled in "Heat", and despite De Niro's badassery, the finale of that story did not quite have the moral ambiguity and ironic turns of fate seen in "Takedown", instead substituting a lame bit of cat-and-mouse on an airport tarmac. It's still highly problematic, but Hanna and McCauley (here named McLaren, I guess after the import sports car?) come across less as closet cases and more as two halves of a coin that's tragically destined to be punted out of a 14th story hotel room window.
Kevin McCormick
L.A. Takedown Quotes
There are no approved quotes yet for this movie.