La Vie de Bohème (Bohemian Life)
(1993)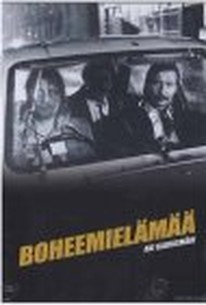 AUDIENCE SCORE
Critic Consensus: No consensus yet.
Movie Info
This is a well-regarded contemporary dramatic retelling of the story most familiar to audiences from Puccini's great opera La Bohème and was made by the noted Finnish film director Aki Kaurismaki. Like the opera, it is based on the novel Scènes de la vie de bohème by Henri Murger. Despite their ever-present poverty, which poses a constant threat to their continued existence, the artists and their friends in this movie speak in only the most polite, elegant, and genteel manner, which only serves to underscore their desperate situation. In the story, the poet Marcel has been unable to come up with the rent for his barely tolerable room and has been evicted from it. While wandering in his neighborhood, he catches the eye of Rodolfo, an Albanian immigrant eating in a small cafe, who waves him over and invites him to share his dinner. Though they have never met, they are soon deeply involved in a discussion about art. They leave the restaurant together and, for want of a better idea, wander back to Marcel's former room. There the poet and his new friend, the painter Rodolfo, discover an equally congenial companion in the man who just rented his room, Schaumard, an Irish composer. Just one step away from starvation most of the time, these loyal friends share resources to help one another out. On one occasion, Marcel needs a suit for a job interview and is able to borrow one from one of Rodolfo's portrait sitters long enough to be interviewed and get a paid job. With his earnings from his new editing job, Marcel buys Schaumard a car he needs. On the job, Marcel meets poor provincial girl Musette, whom he falls for, and at the same time Rodolfo finds another poor provincial girl, Mimi, on his doorstep. He quickly comes to love Mimi, but circumstances constantly thwart their being together, until he at last succeeds in making a place for them and she dies in his arms. ~ Clarke Fountain, Rovi
Rating:
NR
Genre:
, , , ,
Directed By:
Written By:
In Theaters:
On DVD:
Runtime:
Studio:
Kino International Corp.
Critic Reviews for La Vie de Bohème (Bohemian Life)
All Critics (3) | Fresh (3) | Rotten (0) | DVD (1)
The kind of pocket universe you'd love to slip into for a summer or two, as long as you could stage a strategic exit before the food runs out.
Audience Reviews for La Vie de Bohème (Bohemian Life)
½
so, I'm watching the movie, I'm on the last scene (of which I won't describe for those who haven't seen it, spoilers and all that) and I'm hearing someone at the door. they're not knocking. it sounds like they're trying to find the right key for the lock. so I, and I think with logic on my side, assume it's my roommate coming home. I don't look up when I hear the door open -- I'm watching a movie -- so I don't know he hasn't come in. well, I'm not positive he hasn't come in. I don't hear footsteps, so I'm thinking that maybe he just opened the door because he needed it ajar so he could bring in a large heavy object (he's in a band, so equipment and such often is moving in and out), one large enough that it would be reasonable that he wouldn't be able to open the door and hold it at the same time. the movie ends, and I move to the VCR to hit rewind and look and notice that he still hasn't come in. I get up to investigate. and then this black and white cat comes walking around the corner -- a cat that had followed me from the parking lot to my apartment door (and whom I would refuse to let in, against his objections) on occasions previous -- I turn to look and no one is at the door. it takes a minute of all-consuming pondering, a moment of personal inactivity which the cat would take to stretch itself out along our coffeetable/amp case, to figure out exactly what's going on, but it finally hits me: THIS CAT FUCKING PICKED THE LOCK AND BROKE INTO OUR APARTMENT. I grab the bastard and place him outside, and before I can close the door in his face, he scurries right back in. on the second attempt, I placed him a bit further outside and managed to secure the locale. well, needless to say, I'm freaked out right now. what kind of cat is this? what cat knows how to pick locks? and why is he zeroing in on [b]my[/b] apartment? when I put him out, he spent a good minute trying to get back in (I wisely locked the lock just out of his reach). he hasn't given up. and this worries me. about the movie: this was my intoduction to Kaurismaki. a lot of his films were played at the Olympia Film Fest last fall, but I wasn't able to attend (for whatever reason). I'm kind of regretting that now. anyway, Jean-Pierre Leaud is a god and comparisions to Jarmusch seem somewhat apt. I'll say more about the other films I watched this morning in later posts. maybe even something remotely substantial!
Repping Hard
La Vie de Bohème (Bohemian Life) Quotes
There are no approved quotes yet for this movie.
Discussion Forum
Discuss La Vie de Bohème (Bohemian Life) on our Movie forum!