Laadla
(1994)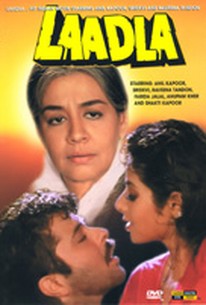 AUDIENCE SCORE
Critic Consensus: No consensus yet.
Movie Info
Raj Verma lives with his widowed and ailing mom in an Indian city. He is unemployed and is looking for employment so that he can get medical treatment for his mom. One day he comes to the rescue of a multi-millionaire industrialist, Laxminarain Jetley. Out of gratitude, Laxminarain offers him a job in his factory "Sheetal Industries", run by his head-strong and efficient daughter, Sheetal. Raj does secure employment as a Mechanic and falls in love with Sheetal's Secretary, Kaajal. The Workers' Union in Sheetal Industries want an election and want Raj to be their union leader, much to Sheetal's dislike. Raj wins the election, and shortly thereafter Laxminarain approaches Raj's mom with a proposal for marriage with Sheetal. His mother is delighted and accepts, but Raj is reluctant, but when his mother insists he relents and marries Sheetal, breaking Kaajal's heart. It is after the marriage that Raj finds out the real reason why Sheetal married him - it was to get him out of Sheetal Industries - so she can continue to run it as she likes - without interference from any union and union leaders. She makes it clear to Raj that their marriage was nothing but a paper marriage, arranged merely to demoralize the workers, and force them to elect another union leader - this time a person of her choice.
Critic Reviews for Laadla
There are no critic reviews yet for Laadla. Keep checking Rotten Tomatoes for updates!
Audience Reviews for Laadla
InTheBasket program
You Understand? You better understand!
This was the quote I would never forget since I saw the Movie for the first time. Sri Devi`s acting as a mean ambitious Lady with no Mercy in the Movie was outstanding. It was a tiny bit iritating for me to see Farida Jalal in a Mother role, as I have seen her Movies when she was young as well I will be always confused at first when I watch ARUNA IRANI in her roles when she got older. I think this Picture in my mind of Aruna Irani as a young Lady who acted along side of late Mehmood will never dissappear.
Anil`s last hours in US Series "24"
I can watch violency in the Movies and its like okay it if it is too much I switch off
BUT there is one thing I cannt see: Tears in Anil s Eyes when I watch his Movies, when I see tears in his eyes in Movies my eyes Automatically are filled with Tears. Please dont get me wrong I am not a groupie or so. I guess Anil is too good at this point to make it intense.
I just like seeing him smile. And then THE SHOCK! I was STUNNED when watched him in "24" where he gets killed. I mean I have seen Anil "tortured" in the Movies but in "24" WOW, It was too intense and too Brutal. If you ask me too realistic made me just cry seeing him with Cut Throat. This Scene from "24" in my BRAIN which I have to get rid off by watching his "Bollywood Comedy`s"
Laadla Quotes
There are no approved quotes yet for this movie.
Discussion Forum
Discuss Laadla on our Movie forum!