Laa-thaa-phii (Ghost Game)
(2006)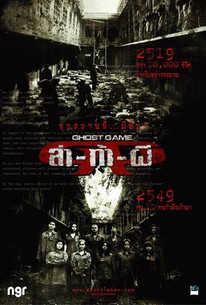 AUDIENCE SCORE
Critic Consensus: No consensus yet.
Movie Info
Ghost Game tells the story of 11 contestants who sign up for a scary reality show which forces them to confront the supernatural and their innermost fears. They're brought to an ancient war museum in Cambodia, which was used as a Khmer Rouge prison twenty years before. Thousands of innocent people were tortured and killed there during the Cambodian war in the 1970s. Now the museum is abandoned, and no one dares to step inside. The single winner of the show will be rewarded for 5 million Baht ($US 130,000), the highest amount ever offered on a Thai game show. Inspired by the big reward, they accept to risk their lives in the museum, confronting traps set by the show's producers, as well as those of the real ghosts whose spirits haunt the place.
Critic Reviews for Laa-thaa-phii (Ghost Game)
There are no critic reviews yet for Laa-thaa-phii (Ghost Game). Keep checking Rotten Tomatoes for updates!
Audience Reviews for Laa-thaa-phii (Ghost Game)
½
A group of contestants on a Thai reality TV show are challenged to spend their nights in an abandoned concentration camp that was the scene of a gruesome mass murder. Blair Witch meets Battle Royale in Thailand's answer to J Horror. The camp is, of course, haunted and the rest of the film plays out pretty much as you'd expect. The locations are actually quite atmospheric, the characters likeable (well, for teens anyway) and performances decent enough. What it really is missing is a solid hook for the story; we are basically expected to care what happens to the characters just because they are the "goodies", and we learn little about the ghostly villain other than he is "the baddie". It's an efficient stalker style horror film and there's no real reason why anyone who enjoys the genre shouldn't enjoy this too. A plot would've been nice though.
½
If you can make it through the convoluted and dull plot until the end you will be in for a treat. However, is the price too high? No, you're only sitting down and watching a movie, get over yourself! It's not like your working at a rock quarry! And eat your broccoli! And there you have it, the worst review for a movie ever.
Christopher Brown
Super Reviewer
Laa-thaa-phii (Ghost Game) Quotes
There are no approved quotes yet for this movie.