Ladies and Gentlemen, the Fabulous Stains
(1981)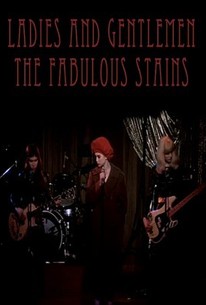 AUDIENCE SCORE
Critic Consensus: No consensus yet.
Movie Info
A very inexperienced rock band flirts with fame thanks to a valuable assist from the media in this comedy-drama directed by veteran music producer Lou Adler. Corinne Burns (Diane Lane) is a fifteen-year-old orphan who gains a measure of local notoriety when she quits her job at a burger stand during a live television newscast. Corinne has few prospects but plenty of nerve, and she's formed a band with her sister Tracy (Marin Kanter) and cousin Jessica (Laura Dern) called the Stains. While checking out a gig by veteran hard rock band the Metal Corpses, led by flamboyant singer Lou Corpse (Fee Waybill), opened by British punk upstarts the Looters, Corrine sneaks backstage to ask advice just as Lou demands tour manager Lawnboy (Barry Ford) find a new opening act. Lawnboy impulsively gives the Stains the gig, and while the first show for the girls (who've had all of three practices) is little short of a disaster, Corrine's skunk-stripe hairdo, provocative clothes and defiant declaration "We don't put out" captures the attention of a television reporter who covered her before. A story on the evening news about the Stains turns the band into a cult sensation, and Looters lead singer Billy (Ray Winstone) tries to offer her some advice and emotional support as the Stains rise from opening act to headliners, but Corinne and her friends learn that their new fans are a very fickle breed. Shot in 1980 but released to only a handful of theaters in 1982, Ladies and Gentlemen, The Fabulous Stains gained a potent cult following after it appeared on cable television, largely among punk rock fans -- the Looters featured Steve Jones and Paul Cook of the Sex Pistols on guitar and drums as well as Paul Simonon from the Clash on bass, while L.A. punk troublemakers Black Randy and the Metrosquad briefly appear as themselves. ~ Mark Deming, Rovi
Critic Reviews for Ladies and Gentlemen, the Fabulous Stains
Audience Reviews for Ladies and Gentlemen, the Fabulous Stains
A punk rocker who has very little talent becomes a cult icon. Netflix identified this film as a satire, and throughout most of the film, I tried to figure out what it was satirizing. I guess I can see it as a satire of our culture's gullible embrasure of fads, particularly fads that embrace the darker side of life: I can see bits of Kurt Cobain and the goth/punk movements in Corinne Burns and her followers. But if that was the film's subject, then I think there should have been greater attention paid to the fans and their foolish motivations for remaking themselves in Corinne's image. As it is, the film stays on Corinne and her relationship with Billy and the trials of stardom. But she strikes me as a thoroughly uninteresting character, most of the time acting like a petulant child and a hypocrite, claiming she doesn't "put out" but hopping into bed with Billy despite the lack of chemistry or feeling between them. If she's so willing to sleep her way to stardom, then how can she try to pass herself off as a feminist figure. Diane Lane's performance is solid; the mistake is in the character's construction by the writer and director. Overall, this is an uninspired film, and the focus of whatever satire is there wanders and is imprecise.
Jim Hunter
Super Reviewer
terrible and yet somehow good. the star-making machinery in action from a man who knew what goes on. bad acting, worse music, very limited production values but diane lane makes an adorable skunk
Stella Dallas
Super Reviewer
This is twice the movie that pussy Almost Famous shit wishes it could be, and with an infinitesimally lower budget, mind you. Ladies and Gentlemen is pissed off and mostly shitty, just like its heroine and her excitingly awful band - which by the way is the point! Of course Diane Lane can't sing! She's supposed to be horrible, a single good stylistic choice perverted by the media and oversimplified groupthink to the point where she actually SEEMS good to the public. Despite her rage and her insistence otherwise, Corinne is a gimmick. Though she's young and naive and bound to eventually fail, she doesn't take shit from anyone, which makes her plummet all the harder to watch. The catalyst for The Stains' destruction may be a little difficult to believe, but if you view it as a pseudo-allegorical choice, meant to get out its message about fickle fans and empty hype, then it starts making more sense. Surprisingly eloquent for its pedigree, subject matter and length, Ladies and Gentlemen is necessary cult viewing. If you can get past the fact that the movie isn't very well made technically, riddled with performances far less convincing than Lane's, it is a surprisingly honest indictment of all of the fringe that surrounds something as pure and emotionally charged as music. We've taken something meant as expression, the movie might say, and turned it into a capitalist media-subservient bitch.
Drew Smith
Super Reviewer
Ladies and Gentlemen, the Fabulous Stains Quotes
There are no approved quotes yet for this movie.