Lady Beware
(1987)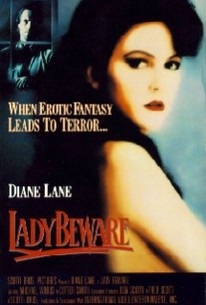 AUDIENCE SCORE
Critic Consensus: No consensus yet.
Movie Info
In this sexy thriller, Katya (Diane Lane) is a window dresser who specializes in displays with sexy, slightly kinky themes. Surrounded by the equipment of her trade -- mannequins and lingerie -- Katya lives in a loft apartment in downtown Pittsburgh. She spends her evenings taking baths by candlelight and thinking up new and more provocative window displays. She soon catches the eye of a stalker who watches her as she works in the window of the department store and begins following her home to spend his evenings watching her through her picture windows. He also makes frightening phone calls to her and intercepts her mail. One evening, while she is on a party cruise with a reporter with whom she has become romantically involved, the stalker breaks into her apartment and is surprised by Katya when she returns home. Tired of being harassed, Katya sets a trap, which leads to an interesting, and surprisingly non-violent ending. Diane Lane is appealing and attractive as Katya and the film, while uneven and frequently implausible, is entertaining and fun.
Audience Reviews for Lady Beware
This movie had been bugging me for years. I remembered seeing it many years ago on TV when I was a young teen. I knew there were no big stars in it, I couldn't recall the title, for years have "looked out" for it in the TV guide without really knowing what I was looking for. Yesterday, in a moment of boredom, I typed as a search everything I could remember which was pretty much " attractive blonde girl lives in beautiful studio apartment, is a window dresser and gets stalked". Yeah, right, like that would do it. Imagine my surprise when this title jumped right out at me, and then again when the entire thing was on you tube to watch free! I would never have picked it - she looks entirely different on this cover. While it's not quite *ahem* the quality film I remember, it's still pretty damn good in a tacky 80's way. Acting is a little over the top, but it still tops most of the newer thrillers. The one glaring plot hole is, why didn't he break the window - but it's nitpicking! Genuinely creepy and disturbing stalker, some of it just made me cringe, and diane Lane is perfect as Katya. Exceptionally beautiful and convincing as a young creative girl with big dreams. I still love her apartment! This is one well worth checking out for fans of the 80's, or b grade/obscure thrillers. Unfortunately it is not on dvd, trust me, I looked!
Nicki Marie
Super Reviewer
Lady Beware Quotes
There are no approved quotes yet for this movie.