Lady Caroline Lamb
(1972)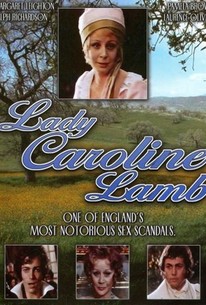 AUDIENCE SCORE
Critic Consensus: No consensus yet.
Movie Info
Robert Bolt's historical drama, set in England during the 19th century, is an account of Lady Caroline (Sarah Miles), wife of a Parliament member (Jon Finch) who begins a notorious affair with Lord Byron (Richard Chamberlain).
Rating:
PG
Genre:
Directed By:
Written By:
On DVD:
Runtime:
Studio:
United Artists
Critic Reviews for Lady Caroline Lamb
There are no critic reviews yet for Lady Caroline Lamb. Keep checking Rotten Tomatoes for updates!
Audience Reviews for Lady Caroline Lamb
Well made romance drama, forbidden love is fact based on a true story between poet Lord Byron and authoress Lady Lamb. The film's failure dissuaded director Bolt from further directorial work, and may have contributed to his breakup with actress Sarah Miles (who starred as Lady Lamb). [img]https://encrypted-tbn1.gstatic.com/images?q=tbn:ANd9GcRxsWpSrpJBnkWV-jBia1j65KaS_BdcyMAJVBdPfyRf5WrNAjaX[/img] Sara Miles Lady Caroline Lamb was a British aristocrat and novelist, best known for her affair with Lord Byron in 1812. Her husband was William Lamb, 2nd Viscount Melbourne, who later became Prime Minister. "The film charts the doomed romantic course for Lady Caroline Lamb (Sarah Miles), beginning with her marriage to the politically promising William Lamb (Jon Finch) and continuing with her scandalous affair with Byron (Richard Chamberlain). The film then chronicles Lady Caroline Lamb's supreme sacrifice on behalf of her husband's political career." ~ Paul Brenner, Rovi Great performance by Richard Chamberlain as Lord Byron and Sarah Miles as Lady Lamb. Chamberlain is perhaps best known for his Dr. Kildare television series and the mini-series The Thorn Birds. [img]https://encrypted-tbn1.gstatic.com/images?q=tbn:ANd9GcRve8sVmmBAAzDOhvqiFvYdVkrw3ZfAR-n0RGCTaVnUKhrRa7Fwxg[/img] Richard Chamberlain as Byron SEE the slow paced but dramatic film here: https://www.youtube.com/watch?v=q9hMutAcx-s NOTES: 1 The film received mixed critical reviews, and was a box-office failure; it was criticized both for its historical inaccuracies (the timing of William Lamb's political career, the portrayal of Byron as a tall, handsome man who lacked his characteristic limp) and for its own (lack of) merits. 2 Positive reviews praised Miles' performance and Bolt's direction, which was clearly inspired by his frequent collaborator David Lean (of Lawrence of Arabia fame). [img]http://pics.livejournal.com/dondanillo/pic/0003fs8s/s640x480[/img] Sarah Miles as Lady Caroline Lamb Jon Finch as William Lamb Richard Chamberlain as Lord Byron John Mills as Canning Margaret Leighton as Lady Melbourne Pamela Brown as Lady Bessborough Silvia Monti as Miss Millbanke Ralph Richardson as King George IV Laurence Olivier as Duke of Wellington Caterina Boratto Caterina Boratto Michael Wilding as Lord Holland Peter Bull as Minister Charles Carson as Potter Sonia Dresdel as Lady Pont Nicholas Field as St. John Felicity Gibson as Girl in Blue [img]http://www.richardchamberlain.net/additionsfromjuly2011/006_LADYC-BYRON.jpg[/img] Lord Byron Directed by Robert Bolt Produced by Fernando Ghia Written by Robert Bolt Music by Richard Rodney Bennett Cinematography Oswald Morris Distributed by MGM-EMI (UK) United Artists (US) Release dates 1973 Language English [img]http://upload.wikimedia.org/wikipedia/en/thumb/6/69/Ladycarolinelamb.jpg/220px-Ladycarolinelamb.jpg[/img]
monsieur rick
Lady Caroline Lamb Quotes
There are no approved quotes yet for this movie.