Lady in a Cage
(1964)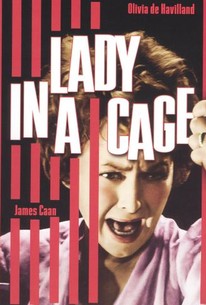 Movie Info
Lurid, exciting melodrama in which a rich widow is trapped in her mansion when a power failure leaves her stuck inside her home elevator. She watches helplessly as her estate is plundered and vandalized by a group of evil young hoodlums. Cinematography by Lee Garmes.
Rating:
NR
Genre:
, ,
Directed By:
Written By:
In Theaters:
On DVD:
Runtime:
Studio:
Paramount Pictures
Critic Reviews for Lady in a Cage
Audience Reviews for Lady in a Cage
Other than a lot of wasted potential and a young James Caan Lady in a Cage is a watchable yet dull suspense movie about a lady (terribly overacted by Olivia de Haviland) trapped in her stair elevator after her electricity is cut. James Caan as a scummy thief gives a cringe worthy performance but does give a glimpse or two of the talent that was developing.
Jonathan Porras
½
Lady in Cage! This is James Caan's first starring role (although not his first picture) and he plays a brutal character that he modeled after Marlon Brando in Streetcar Named Desire. Olivia de Havilland (yes that Olivia de Havilland) is Cornelia Hilyard, a wealthy widow who is recovering from hip surgery. In order to get to the second floor of her house she has an elevator installed. On this particular day Cornelia is taking the lift upstairs when the power goes out and traps her between floors. Fortunately for her she has an emergency button that rings a bell outside the house. Instead of someone coming to rescue her however, the bell lures a bum (Jeff Corey) into the house. He steals some bottles of wine and then walks off with Cornelia's toaster which he takes to a local pawn shop. Randall (James Caan) and his two lackeys Elaine and Essie (Jennifer Billingsley and Rafael Campos) also happen to be at the pawn shop and they decide to follow the bum and see what he is up to. The bum goes to visit Sade (Ann Sothern) a local hustler who he is enamored with. Together the two of them decide to go back to Cornelia's house and rob the place blind. Check out the rest of our review at 3guys1movie.com
3guys 1movie
Thriller has some contrivances but also enough touches of reality to make it unsettling and disturbing. Olivia is effective as she works up to different levels of hysteria at a believable pace rather than going full bore from the beginning. Ann Sothern is a sad blowsy mess managing to engender sympathy for her character even though she does some disreputable things. James Caan is full of menace and an uncomfortable sexuality in his feature film debut, his simpleton comrades are frightening in their careless disregard for humanity. This is economically directed with a minimum of wasted scenes and a talented cast but the theme of home invasion is to real to prove much in the way of escapist entertainment.
Lady in a Cage Quotes
There are no approved quotes yet for this movie.