Lady in Cement
(1968)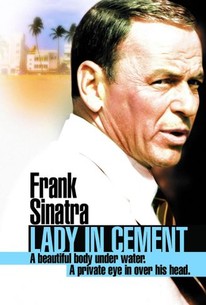 Movie Info
Tony Rome (Frank Sinatra) is a Miami private detective who discovers a lady in cement while scuba diving. Rome is hired by Gronsky (Dan Blocker) to find out if the woman is his missing girlfriend. He interviews Kit Forrest (Raquel Welch), a boozy socialite who had seen the woman at a drunken party earlier. Tony is warned by Kit's neighbor Al Munger (Martin Gabel) to stay away from Kit. Tony discovers Al is a former rackets boss and suspects there is more to the story than Kit and Al are letting on. With the help of local Lieutenant Santini (Richard Conti), Tony contacts artist Arnie Sherwin (Richard Deacon), who helps identify the dead woman as Gronsky's girlfriend. The plot thickens when Gronsky admits that he and Al's son Paul (Steve Peck) were dipping into Al's fund of ill-gotten money. Tony eliminates Kit as a suspect as he tries to solve the crime in this murder mystery.
Rating:
PG
Genre:
, , , ,
Directed By:
Written By:
In Theaters:
On DVD:
Runtime:
Studio:
20th Century Fox Film Corporation
Critic Reviews for Lady in Cement
Audience Reviews for Lady in Cement
Sequel to the pedestrian, ho-hum Tony Rome. Better visually, initially, before it turns episodic and bloated. 3 out of 5
Thomas Porter
This is the sequel to the movie Tony Rome. It's not that much different than Tony Rome. This movie has Raquel Welch and Dan Blocker to add more star power. The dead blond Tony Rome finds in the ocean turns out to be a go-go dancer. Dan Blocker's character hires him to find out if the dead girl is a missing girl he's looking for. That leads him to a go-go club. Go-go clubs were a 1960's version of strip clubs back when nude dancing was illegal. During the movie he also has to go to an old fashion burlesque club were the dancers are on a stage in an auditorium with the customers setting is chairs like a play. He also has to go to a message parlor. Dan Blocker's character is hiding from the police at the message parlor. When Tony Rome finds him he's watching Bonanza. Later when Tony Rome is accused of killing the manager of the go-go club he hides from the police at a hotel and finds the pool boy watching Daniel Boone. I know that Daniel Boone was popular in 1968 and I get the inside joke of Dan Blocker watching himself on TV. Raquel Welch seemed to be wearing a lot wigs. She looked the best without the wig in the swimming pool scene. Dan Blocker's character is shot in the leg with a .45 but it only makes him limp. Movies used to underestimate the damage a gun does to people. In real life you would be lucky not to have your leg amputated after being shot in the leg with a .45. The problem with this movie is that there is not enough Dan Blocker and Raquel Welch.
Donald White
The 2 films (Lady in cement and Tony Rome) that old blue eyes played in were great. By the way he did most of his own stunts in these two movies,and he was in his mid fifties. Sure wish I could find an online site that had lady in cement to stream.
larry smith
Lady in Cement Quotes
There are no approved quotes yet for this movie.