Lady Windermere's Fan
(1925)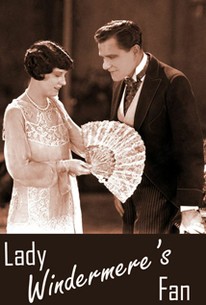 AUDIENCE SCORE
Critic Consensus: No consensus yet.
Lady Windermere's Fan Photos
Movie Info
Unable to rely upon Oscar Wilde's epigrammatic dialogue to carry the day (this was, after all, the silent-film era), director Ernst Lubitsch substitutes verbal wit for the visual variety in his 1925 filmization of Lady Windermere's Fan. Ronald Colman has one of his first important screen roles as the slightly caddish Lord Darlington, who is in love with the very pretty--and very married--Lady Windermere (May McAvoy). The lady is rescued from disgrace at the hands of Darlington by the notorious Mrs. Erlynne (Irene Rich), who unbeknownst to everyone is Lady Windemere's long-lost mother. Filmed at the still young-and-hungry Warner Bros. studio, Lady Windermere's Fan was an enormous hit, and an instant candidate for the many "Ten Best" lists tabulated by the fan magazines of the era.
Rating:
G
Genre:
Directed By:
Written By:
In Theaters:
Runtime:
Studio:
Warner Bros.
Audience Reviews for Lady Windermere's Fan
½
Why Silent Adaptations of Oscar Wilde Don't Work In his own way, Oscar Wilde really was a dreadfully conventional man. If you take the quips out, most of his works are of the opinion that basic decency is really quite important. Oh, he wasn't much for conventional morality per se, but it was really more that he didn't think the rules should apply to him. He even played by most of them most of the time, when you really look at his life. He found it all deathly boring, but at the same time, he really wasn't as much of a rebel as he thought he was. It's just that his particular rebellion was shocking at the time. Given his fondness for "rough trade," it would still be a bit shocking now. All in all, though, he was a middle class man in attitude who wasn't capable of really living a middle class life. It's also true that his wit mostly disguised it, because we remember what his characters said more than what they did. Which is why a silent version is so completely random. Lady Windermere (May McAvoy) is a wealthy society woman. She has believed for many years that her mother is dead. She idolizes her dead mother, wishing nothing more than to live up to her sainted example. One day, a Mrs. Erlynne (Irene Rich) comes to the notice of her social circle. There is much gossip about her, though if the movie reveals any detail about what's so shocking about her, I kind of missed it. (This may also be due to changing morality, and it may be that what was shocking about her a hundred years ago is perfectly normal now.) Eventually, Mrs. Erlynne shares her secret with Lord Windermere (Bert Lytell)--she is Lady Windermere's mother! Lord Windermere begins defending Mrs. Erlynne, which leads various people to assume that the two are having an affair. This makes Lady Windermere more susceptible to the advances of Lord Darlington (Ronald Colman) and hard-hearted against Mrs. Erlynne. Really, I don't get it. Oscar Wilde is all about wit. Clever back-and-forth between people who are too full of constant snappy patter to be real. And of course, silent movies are only able to provide so much of that in the title cards. Really, we might as well just be reading if we're going to be getting the full effect of the dialogue. However, shorn of the dialogue, we're pretty much left with a melodrama. Sad but true. I'm not sure any of Wilde's witticisms made it into the title cards at all. I'm not sure a version of this could have been made during the Code, given certain details of plot, but it's still worth noting that most of the sound versions of this have been in languages other than English. And I don't speak any of them well enough to know how good the translations are, of course. Wilde is best known for being clever, but if all you knew about him was this movie, you wouldn't know anything about him at all. This may be his plot, but I don't think it's really his story. Of course, the point of the story may be that we let what we think is morality get in the way of making us happy, but the supposedly moral act on Lady Windermere's part is not associating with a Fallen Woman. I don't think we have any reason to believe that leaving her husband would make her happy; I don't think we have any reason to believe that her happiness is all that important to Lord Darlington. If he's like most young men in Oscar Wilde works, the only happiness he's truly concerned about is his own. Being with him is presumably enough to make her happy, if she really loves him. Which I'm not sure she does; one of Wilde's great failings was that he wasn't very good about writing detailed and realistic female characters. I don't think Lady Windermere knew what she wanted at all except to be the center of some man's attention. And she wouldn't have remained the center of Lord Darlington's attention long if she had given in to his advances, which Mrs. Erlynne knew. I understand that the impulse was to bring the best of the dramatic arts to the screen, to legitimize the movies as "real" art. And indeed, this was the second movie version of [i]Lady Windermere's Fan[/i]! However, some works are not suitable for some media. Doubtless you've heard of various books as "unfilmable," in many cases after a movie has been made which shows that, if it [i]was[/i] a way to film that book, the way they tried wasn't it. And I have long been perplexed at the sheer number of silent productions of [i]Carmen[/i]. Sometimes, you wish people would have just taken the step back and said, "No, this is a bad idea and we shouldn't do it, even if it's popular." I have watched a number of experimental films in my day, Gods know, but the important thing to remember is that experiments sometimes fail. I would have much rather seen a really good pre-Code version of this, but one was never made. This came in a collection of odds and ends from various people's archives, mostly silent. And when you have to say, "Well, it was better than that Rin Tin Tin movie," you're not looking at High Art.
Edith Nelson
Lady Windermere's Fan Quotes
There are no approved quotes yet for this movie.