Laid to Rest
(2009)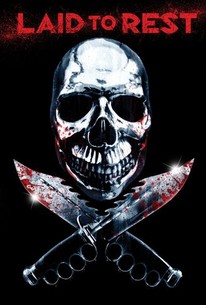 AUDIENCE SCORE
Critic Consensus: No consensus yet.
Movie Info
A woman (Bobbie Sue Luther) awakens in a coffin at a funeral home, with no recollection of who she is or how she got there. And things get worse when she finds herself being stalked by a masked serial killer. Kevin Gage, Lena Headey. Written and directed by Robert Hall, who is also a master at makeup special effects.
Critic Reviews for Laid to Rest
Audience Reviews for Laid to Rest
½
Well executed low-budget Slasher film that is a fine throwback to the genres heyday. This film boasts a sick, demented and brutal killer that belongs in the same category as Jason Voorhees, Michael Myers and Freddy Kruger. This film is perfect for people for an effective and brutal slasher where it showcases a brand new killer, instead of giving us the same old horror icons in disappointing remakes. For those looking for a bloody good time, then this is the film to check out. The picture has its flaws, but it does what many remakes fail to do, and that's to entertain the viewer. The film does rely on the classic Slasher film formula, but gives it a modern twist and it pays off. Acting wise, the actors aren't the best, but who cares? They're meant to be the victims here and get killed off. They won't win any Oscars any time soon. Chromeskull is an effective killer that belong in the horror killer hall of fame, he is one of the best on-screen killers in recent memory. Director Robert Hall direction is impressive, and though Laid to Rest is short on great plot, it more than makes up for it with bloody, gross kills that will certainly make horror fans relish. What's great with this film is that no specific motive is given to the killer in order to kill. Every other killer in the Slasher genre back in the day seemed to have a motive, Jason Voorhees wanted revenge for the death of his mom, Freddy Krueger wanted to punish the kids of the parents to kill him and so on. Michael Myers had to kill his sister to make the voices in his head stop. However with Chromeskull no reason is given and I think it adds a lot more to the enjoyment of the film as it makes you wonder what his motives are. This is a very entertaining horror film that should be seen if you're tired by the countless uninspired films in the genre.
½
Better than your average slasher these days. The kills are brutal and gory, and the plot has a bit of intrigue, though the killer only has vague references to his backstory. It was also refreshing to have a likable bunch of characters for a change that you could root for. As for the killer - Chromeskull - I wasn't too convinced, he looked the part but didn't across as a formidable beast like others from the slasher genre. This one is definitely worth a look though.
Each to their own, I enjoyed this Movie over all.
Laid to Rest Quotes
There are no approved quotes yet for this movie.