Lake Dead
(2007)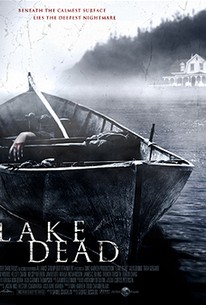 AUDIENCE SCORE
Critic Consensus: No consensus yet.
Movie Info
When three sisters venture deep into the backwoods to visit the home recently left to them by their long lost grandfather, they are stalked by a psychotic family of murderous rednecks who have taken up residence in the home and who have no plans of giving it up. Their grandfather was recently killed in the most gruesome manner imaginable, and the three sisters are stunned to learn that they are the sole heirs to his sprawling estate. After rounding up a group of close friends, the girls set out for the hills in order to explore the house and have a little fun. The good times come to an abrupt end, however, when a family of inbred maniacs emerges with a lethal grudge and a lingering thirst for blood.
Critic Reviews for Lake Dead
All Critics (4) | Top Critics (1) | Fresh (1) | Rotten (3) | DVD (3)
All wet but none too scary.
November 15, 2007
Although the characters in Lake Dead are supposed to be adults, they act little differently from the stupid horny teenagers who inhabited bad slasher movies back in the 1980s.
An all-in-fun slasher flick—shallow as can be, never scary, unevenly acted, but wickedly comic.
Audience Reviews for Lake Dead
Why do the hot guys always have to save the loud, whiney, obnoxious women? I don't understand why the movie makes the women seem helpless and so annoying. It's kind of insulting in a way. I also don't understand the need for useless sex scenes. They're completely unnecessary and it pulls away from the actual plot. The script, of course was also bad. No one talks like that, and the acting just makes the script seem worse. It wasn't scary as much as it was disturbing (the incest thing), but nothing stuck with me for long. It's not a movie worth watching. It's a sad excuse for a horror film.
It did freaked me out at first. The whole movie was okay but somehow I felt something was missing in it.
Dead Angel
Super Reviewer
½
Well this is 2nd 8 films do die for 2008 sereis I've watched and must say it was better then the other. Nice looking ladies thats for sure. A OK theme, Who were the two funk brothers, Vince McMahon you need to get these two in WEF. Its worth picking up, Wally's World has them at Regular pice for $7.50 its worth that.
Bruce Bruce
Super Reviewer
Lake Dead Quotes
There are no approved quotes yet for this movie.