Lake Placid
(1999)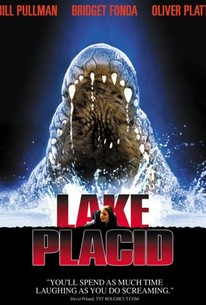 Movie Info
So what's under the water in that lake deep in the Maine woods? No one is sure what it could be, but a dead and severely mutilated body was found near the shore, and the only clue is a large tooth which appears to be from a prehistoric animal resembling a huge crocodile. Jack Wells (Bill Pullman), the local fish and game warden, is investigating the case when he's assigned a helper, paleontologist Kelly Scott (Bridget Fonda). Kelly generally does office work since she hates the outdoors (a drawback in her line of work) and is recovering from a breakup with one of her co-workers. Jack would just as soon handle this matter without Kelly's help, but with time, the two get used to each other and something beyond a working relationship begins to develop. Meanwhile, Jack and Kelly also have to deal with Sheriff Hank Keogh (Brendan Gleeson), who would like to find the mystery creature and kill it; Hector Cyr (Oliver Platt), a quirky mythology expert who wants to capture and study the beast; and Mrs. Bickerman (Betty White), an eccentric older woman with dubious stories about her missing cattle -- and missing husband. Blending suspense, humor, and romance, Lake Placid was written by David E. Kelley, creator of the popular TV shows Ally McBeal and The Practice, and directed by Steve Miner, whose credits range from TV's The Wonder Years to the films Forever Young and Halloween: H20. ~ Mark Deming, Rovi
People Who Like this movie also like
News & Interviews for Lake Placid
Critic Reviews for Lake Placid
Audience Reviews for Lake Placid
I love genre-bending movies, and especially those that mix horror with comedy. That puts me dead center of the target demographic of this film. The plot is pretty silly and there certainly isn't enough action for anyone looking for scares. What saves it is the script. It's witty and never takes itself too seriously. The characters are all foils for one another, setting up some of the most entertaining dialog of any movie I know. The plot revolves around a 30 foot Asian crocodile somehow winding up in a lake in Maine - go figure. What makes the movie are the characters assembled to do something about it. Bridget Fonda is an annoying paleontologist who's never before ventured out of her museum. Here, she plays both the archetypal fish out of water as well as potential romantic interest for the local game warden, played by Bill Pullman. The essential characters are rounded out by Brendan Gleeson's dour sheriff, Oliver Platt's rich and eccentric mythology buff, and Betty White as the colorful local little old lady with a secret or two. As I said, reduced to a plot outline, it's pretty unimpressive, but the verbal barbs that fly back and forth between the characters are what make the show. It's an "action/horror" movie I could watch with my eyes shut and still enjoy. 5 Stars 11-05-13
Bruce Bruce
Super Reviewer
To begin with its not even Lake Placid, but some other lake, this one up in Maine ("the graveyard of horror!" ... I just said that. I don't know if its true. Like the sound of it though. London's maybe the real graveyard ... anyway ) and there's something in the water, something big, and its eating people. Funny and cool creature feature.
Kevin M. Williams
Super Reviewer
Lake Placid I believe is a very underrated film. The film seems to be crucified by the fact it was written by Alley McBeal creator, David E. Kelly. If you can get past this fact, Lake Placid is a very entertaining horror comedy. The acting is decent at best and the scares are good enough, but the film works because it is entertaining and is meant to be a fun film to watch. The film's story is about a killer larger than life crocodile, and the hunt to capture it. With a script laced with tongue and cheeks humour, Lake Placid is different killer creature film. The films humour does get nerve racking at times, but considering the length of the film, in the end you don't care. If you like silly horror films, then you'll most likely want to watch this film.Veteran horror director Steve Miner (Friday The 13th Part 2, 3, House, Halloween H20) directs this film with wit, and Minder definitely knows how to craft a good, fun, B movie style creature film. Even if Lake Placid is flawed, this is still a very good little film. A fairly good effort in general, Lake Placid manages to combine Silliness with decent enough horror element. This film can definitely be seen as an introduction to a horror film for people who are new to the genre. The film will probably appeal to a younger, more ripe horror crowd who can't handle films such as The Exorcist. If you're new to horror and want a killer creature film, then watch this one or Jaws. This is fairly soft in it's horror themes to appeal to people who would usually hate the genre due to the fact that it's too intense.
Lake Placid Quotes
| | |
| --- | --- |
| Hank Keogh: | I never heard of a crocodile crossing an ocean. |
| Hector Cyr: | Well, they conceal information like that in books. |
| | |
| --- | --- |
| Hank Keogh: | Was that, like, a homosexual remark You know Hector, I'm sure you're a fine person in your own mental way, but I think it would be best if you and I didn't speak. |
| | |
| --- | --- |
| Hank Keogh: | I'm going to say this because I believe in being straight with people: I think you are a mental. |
| Hector Cyr: | Sheriff, I appreciate your candor, really I do. I think it's always good to know where somebody's coming from and frankly your origins have been a bit of a mystery ... to me. |
| | |
| --- | --- |
| Hector Cyr: | Let's not overlook the fact that he didn't eat me. |
| Jack Wells: | 'Cause he just ate a cow, stupid! |
Discussion Forum
Discuss Lake Placid on our Movie forum!