Lamerica
(1995)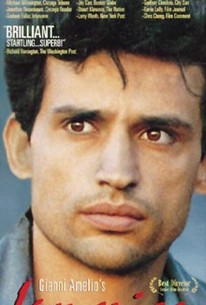 Movie Info
An opportunistic Italian swindler heads to Albania and finds himself involved with the life of an impoverished local in this somber political drama. Gino (Enrico Lo Verso) and his partner in crime Fiore (Michele Placido) come to Albania with a money-making scheme designed to capitalize on the surrounding political chaos. For the con to work, however, they need an easily exploitable native Albanian, and they recruit Spiro (Carmelo Di Mazzarelli). Easily confused and utterly impoverished, this elderly former political prisoner seems the perfect choice, until he unexpectedly disappears. Gino is assigned to find him, setting out on a journey that leads him to discover Spiro's tragic personal history and become intimately acquainted with the full extent of Albanian poverty.
Rating:
NR
Genre:
,
Directed By:
Written By:
In Theaters:
On DVD:
Runtime:
Studio:
Arena Films
Critic Reviews for Lamerica
All Critics (10) | Top Critics (1) | Fresh (9) | Rotten (1) | DVD (1)
The film's intention is to put a human face on a complex situation, and while this is successful, it is the depth of the film's characters that draws the audience's empathy.
Not Coming to a Theater Near You
A mesmerizing film that will soften your heart towards the plight of refugees all over the world.

Spirituality and Practice
Chocked full of universal messages the director feels impelled to get across.

Ozus' World Movie Reviews
Audience Reviews for Lamerica
This film is incredible, to say the least. From start to finish, the film has an energy that continually draws the audience into the characters and forces them to see their point of view. Phenomenal visuals.
Jason 123 D
Super Reviewer
½
toccante viaggio per le strade del tempo che ha distrutto la fugace memoria del popolo. Ma, la lontana sperenza non mostra nessun segno de morte.
Pierluigi Puccini
Super Reviewer
This isnt just a story of we should all get along, its far more intricate. It is a story about historical continuity, colonialism, immigration, Europe vs. east, rich vs. poor, ex-communism. All of these ideas come together into this film. From when it begins we are given shots of Albania under Mussolinis occupation, then seamlessly brought into the world of 1991, as if nothing has changed. An Albanian guide who comes to greet the new Italian investors gestures to them by making a quasi fascist salute. The movie transitions quickly from an embezzlement scheme to a movie about human misery and suffering. The two main actors from the film (Enrico Lo Verso and Carmelo Di Mazzarelli) begin with very subtle roles that eventually grew until the climax of the film. As they travel together across Albania they seem to resemble two distinct worlds brought together in this land trapped in time. One still imagines that he is young soldier in army of Mussolini, the other lives fifty years ahead, both are trying to get back home; yet both live in separate worlds. The complications of their relationship are built off of this very difference and similarity. The older one is also trapped, experiencing the horrors of war and instability from an inside perspective (as it was occurring in Italy); the other from without. The impossibility of Talaricos dreams are not what is important, he himself seems to be an unreal figure in that world. What is important are his very dreams, the dreams and fears that represent a generation of Italians themselves By the end of the film, when pride is finally humbled and the situation for Gino has become no different than that of Albanians, we see a final sequence on a boat headed for Italy. An image reminiscent of the old days of immigration to New York. Who is Italian? Who is Albanian? Everything is confused.
Ted Pilkati
Lamerica Quotes
There are no approved quotes yet for this movie.
Discussion Forum
Discuss Lamerica on our Movie forum!