Lancelot of the Lake (Lancelot du Lac)
(1974)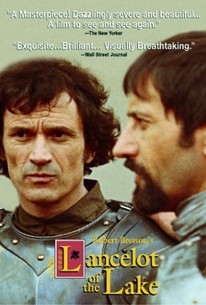 Movie Info
This haunting drama from the brilliant French director Robert Bresson presents a disturbing, de-romanticized vision of the illustrious Lancelot and the Knights of the Round Table. Instead of the selfless, ever-chivalrous mythic figures they are said to be, Bresson depicts them as savage, avaricious men who will stop at nothing to have all they desire. The story begins as the disillusioned Knights return from their unsuccessful bid for the Holy Grail. Along the way back to England, the knights engage in bloody excursions and often fight amongst themselves. When they reach Camelot, Lancelot endeavors to resume his affair with Guinevere. This causes more in-fighting and eventually leads to Lancelot being banned from King Arthur's court.
Rating:
NR
Genre:
,
Directed By:
Written By:
In Theaters:
On DVD:
Runtime:
Studio:
Gerico Sound
Critic Reviews for Lancelot of the Lake (Lancelot du Lac)
Audience Reviews for Lancelot of the Lake (Lancelot du Lac)
½
Robert Bresson's low-budget attempt to de-romanticize the King Arthur myth has no romance, no gallantry, no smiles, almost no score and just a smidge of what might be called "acting." Instead, the film is mostly about Bresson's strange obsession with incidental sound. Lasting impressions of this film are not about dialogue or plot, but rather rattling armor and listless, unnaturally loud footsteps trudging across forest duff and castle floors. Not exactly compelling. Violence usually occurs off-camera, though the bloody opening minutes can't help but evoke Monty Python & the Holy Grail's notorious "only a flesh wound" scene. The homely, untrained cast is just another way to rob the viewer of any easy pleasures. The story itself skips all the glories of Arthur's court and picks up after the failed search for the Grail, so the mood is nothing but bleak. Approach at your own risk, and don't bother bringing a shrubbery.
Eric Broome
Super Reviewer
½
Returning empty handed in his two-year search for the Holy Grail after having made a wrong turn somewhere, Lancelot(Luc Simon) is given a warm welcome back from King Arthur(Vladimir Antolek-Oresek). Mordred(Patrick Bernhard) emerges from the shadows just long enough to remind everybody that he told them so, before slinking back to his hole. All Queen Guinevere(Laura Duke Condominas) wants to know is why her knight, Lancelot, is not wearing her ring anymore. To start, "Lancelot of the Lake" takes an intriguing approach to violence, with the only graphic detail in its opening sequence(if it looks familiar, it should be pointed out that "Monty Python and the Holy Grail" was made the following year), before pretty much avoiding it for the rest of the film, which speaks volumes to the knights' worthiness, considering their history of bloodshed and pillaging. This film is set during the downward slide of Arthur's rule, as he has no wish to replace any fallen knights. Otherwise, the movie can be talky, focusing more on relationships, which confirms the eternal power of this venerable tale.
Very interesting. This is my first experience with a Bresson film but after seeing this I will no doubt see some of his others. It's based on the legend of the knights of the round table but strips down all the romance and mysticism and gives way to stark realism. The film is extremely art house in nature by way of constant symbolism and unusually framed shots but it is by no means existential. It is however, unsentimental, even towards the hero, Lancelot, in its portrayal of the purity of men. Not much emotion is displayed on screen but through the dialogue and the plot progression the viewer can deduct the stirring hearts hidden within the hard demeanors of the characters. The most striking aspect of the film is its cinematography, which speaks mounds for the story; it is subtle yet elegant when capturing small moments, one of the more memorable being the tracking of Guenivere's hand move across her lap between Lancelot and her scarf. I feel I would benefit from a second viewing yet am a little apprehensive given the patience this film requires. I still was captivated by much of what I saw, and the 80+ minute runtime made it easier to sit through. It is a refreshing take on the Camelot legend and filmed in a style that we don't see much of anymore. I would recommend this to anyone who's a fan of art house cinema and knights in armor flicks.
imgonnaget STABBED
Lancelot of the Lake (Lancelot du Lac) Quotes
There are no approved quotes yet for this movie.
Discussion Forum
Discuss Lancelot of the Lake (Lancelot du Lac) on our Movie forum!