L'Argent
(1983)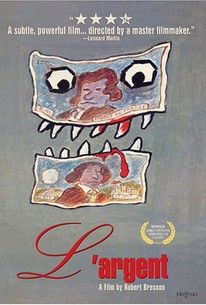 Movie Info
The last film by veteran writer/director Robert Bresson, the French crime drama L'Argent (Money) was based on a short story by Russian novelist Leo Tolstoy. Looking for some quick cash, young man Norbert (Marc Ernest Fourneau) gets a phony 500 franc note from his friend Matrial (Bruno Lapeyre). After he spends it at a photography shop, the unscrupulous shop owner (Didier Baussy) decides to pass it on to someone else. The unfortunate victim is honest delivery man Yvon Targe (Christian Patey), who doesn't realize the bill is a fake. When he tries to buy some food with it, he is arrested. He tries to sue the photographer, but shop assistant Lucien (Vincent Risterucci) has been bribed to stay quiet about the transaction. The scandal causes Yvon to lose his job. In order to support his family, he tries driving a getaway car for some criminals. Unfortunately, their heist doesn't go so well, and he is sent to prison for three years. While incarcerated, his child dies of diphtheria and his wife (Caroline Lang) leaves him. Crazed, Yvon turns to theft, violent crime, and eventually cold-blooded murder. L'Argent earned (Bresson) the Director's Prize at the 1983 Cannes Film Festival. ~ Andrea LeVasseur, Rovi
Rating:
NR
Genre:
, ,
Directed By:
Written By:
In Theaters:
On DVD:
Runtime:
Studio:
Criterion Collection
Critic Reviews for L'Argent
Audience Reviews for L'Argent
There are definitely flaws here, but there is something super great about L'Argent. I can't think of another film that so succinctly conveys the cascading effects of one person's (criminal) decision. But unlike most films that focus on the original criminal, or perhaps the victim, this follows the ripple effect in society. There are a couple of sticky plot points that weren't made clear, and the main character, Yvon Targe (Christian Patey), is a guy that is hard to connect with. But the over all arc is strong enough to over come these weaknesses.
Jacob Gehman
½
This is one of the most baffling films I've ever seen. I love the writing. I love the pacing. But the acting is so unnatural and so emotionless that it could only be intentional. Bresson can be a great director, even with his minimalist touches, but this is just distracting. L'Argent is such a tragic story and could be very powerful and moving. But with the universally wooden performances of tense and rigid "actors" it's really hard to care. If someone could explain to me why this was a good choice, I'd love to hear it.
Michael Wilson
You are reading in a large campus library. Your ear picks up a sound. In the distance, someone in dress shoes walks toward your section. Her heels coldly resonate on the tiled floor. Click, click, click, click. The sound grows louder as she nears. Click, click, click, click. Distracted, you lift your eyes and frown. She finally passes, unaware of your irritation. Her steps fade slowly -- too slowly -- as she continues onward behind your back. Until "L'Argent" mercifully switches to a rural setting near the end, the entire film is like this. Torture. You've never heard so many footsteps as characters numbly, silently tread through various rooms and hallways. But the aggravation doesn't stop there. The cast's body language is so bloodless and repressed that your mind may scream at director Robert Bresson to just let his actors be human. Observe the unnatural hand movements. The stiff postures. Even a brief scene where a clerk completes a camera sale turns exasperating. It's shot as if he's a magician doing card tricks. This and Woody Allen's "Husbands and Wives" (neurotic shaky-cam) are the only two films I've ever seen that actually gave me a headache. Based on a Tolstoy short story, "L'Argent" shows how money corrupts via the impact of a single counterfeit bill. Two schoolboys buy a trivial picture frame, only because they want change for a forged, 500-franc note. The naive shopkeeper is later berated by her husband for accepting the money, but she points out that he took two phony bills the day before. Literally passing the buck, he unloads all three bills on a delivery man, Yvon (Christian Patey, just one of the cast's unknown, seemingly untrained actors). When Yvon innocently tries to pay for lunch with the money, the waiter calls the police. Yvon is arrested. He avoids prison but loses his job. This sends him into a downward spiral of crime that costs him both his freedom and family. Bresson's mimimalist style does have its intrigue. As with some of his other films, there is no musical score. Perfunctory behavior is dwelled upon, while crucial action occurs off-camera. The film is over well within 90 minutes. Its brisk, clinical pace is remarkably distinct. But at what price? Is a movie successful when a tragic story breeds no empathy whatsoever with its characters?
Eric Broome
Super Reviewer
L'Argent Quotes
There are no approved quotes yet for this movie.
Discussion Forum
Discuss L'Argent on our Movie forum!