Laser Mission
(1997)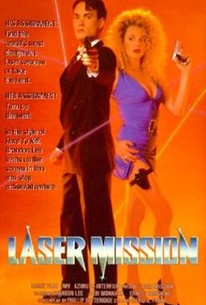 AUDIENCE SCORE
Critic Consensus: No consensus yet.
Movie Info
In this action adventure tale, Professor Braun (Ernest Borgnine), an expert in weapons technology, is kidnapped by Soviet terrorists who intend to force him to make a high-tech laser cannon for them. Intelligence agents Michael Gold (Brandon Lee) and Alissa (Debi A. Monahan) are sent in by the CIA to rescue him and recover a cache of stolen diamonds before it's too late for Braun and the world at large. Laser Mission marked Brandon Lee's first starring role in a U.S. feature film, three years before his tragic death while shooting The Crow.
Rating:
R
Genre:
, ,
Directed By:
Written By:
In Theaters:
On DVD:
Runtime:
Studio:
Turner Home Entertainment
Audience Reviews for Laser Mission
"HE'S A MERCENARY MAN! *cheesy saxophone music* HE'S A MERCENARY MAN!" I knew I was in for something special the moment I heard the gloriously cheesy opening song describing the main character of this low-grade late 80's crap-tastic action film. Laser Mission, while not particularly well known, is mostly shunned and scorned, and is often cited as the worst film of Brandon Lee's tragically short career. People only ever want to remember Brandon Lee for his legendary role in The Crow, while many fans of his want to keep this film buried and not want to talk about it. Make no mistake, The Crow is a superb action film, and Brandon Lee delivered an amazing performance. His death was a tragic loss for Hollywood because they lost one of the next greats who would have gone on to do many other great performances. His role in The Crow made me want to check out his other less-revered works. As much as I love a good serious film, I am also a die hard B-movie fanatic, especially when it comes to the action genre which has provided me with many gloriously bad films. My other experiences with his work have been Showdown In Little Tokyo and Rapid Fire (Sadly, his death prevented the making of Rapid Fire 2), both of which I also enjoyed and awarded 4-star ratings as well. Seeing The Crow, Showdown In Little Tokyo, and Rapid Fire made me even more curious to see his other films in his brief filmography. But, for whatever reason, I waited for quite some time before I obtained any of his other films. I was excited when I came across Laser Mission (Which was part of a 15-pack of action films), as I was already aware of its bad reputation and looking forward to glorious B-movie entertainment...and it sure delivered, as it is one of the greatest so-bad-it's-good films I've ever come across. The film focuses on a mercenary named Michael Gold, who is sent to Cuba to rescue a scientist who the Soviets want to build a deadly laser weapon using diamonds. Now he, along with a beautiful woman named Alissa, must rescue the scientist and kill a whole shitload of Soviets along the way to protect the world and put a stop to this developing weapon. The story is completely and utterly tacky in every way imaginable. There is never a single believable moment, but that's okay, because this film embraces its gloriously low-budget, poorly made aspects to the fullest degree by putting the characters in the most ridiculous of scenarios and finding new ways to destroy stuff in over the top ways. Brandon Lee was a great actor, but don't expect anything on par with his performance in The Crow. No, here he seems to be fully aware of how stupid and terrible this film is, and delivers a very cheesy performance, but thanks to his charisma as an actor he makes his character a lot of fun to watch. The other actors are also pretty cheesy, especially the actors who try to deliver hokey Spanish accents, which made the acting a real hoot at times. Though the acting as a whole is admittedly bad, the actors are having too good a time and delivering such campy performances that it became impossible for me to really ding their acting abilities because I had a lot of fun too. The action is awesome in the best bad ways. There are car chases, gun battles galore, explosions, martial arts battles, cheesy romance, a cheesy sex scene, sci-fi hokum, ridiculous villains, over the top and hilarious humor, and so much more. The action scenes were always exciting and seemed to be constantly trying to find ways to up the ante in their stupidity. It's a B-movie lover's dream come true when it comes to bad action flicks. I in no way have shame in awarding Laser Mission 4/5 stars. It's a gloriously stupid, fun, wacky, and ridiculously entertaining romp from start to finish. If you are a B-movie lover, there's plenty to love in Laser Mission.
Keenan Sullivan
½
A defecting Russian scientist is kidnapped in Africa because he can make nuclear weapons out of lasers and diamonds; his busty daughter accompanies a secret agent on a rescue mission. Featuring ludicrous action scenes, hackneyed dialogue, and an embarrassed Ernest Borgnine, this ROMANCING THE STONE clone is for connoisseurs of 80s vintage cheese only.
½
Wow what an explosive movie one minute, and what a cheesy one the next!~
Joseph Eastmond
Super Reviewer