Laserhawk
(2000)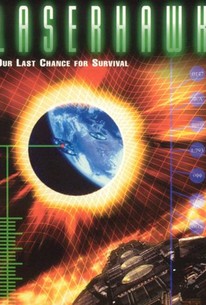 AUDIENCE SCORE
Critic Consensus: No consensus yet.
Movie Info
A teenager who cried wolf now has to warn his neighbors that ill-tempered aliens are on the way in this sci-fi adventure. Zach (Jason James Richter) is a high school student who, in hopes of impressing the other kids, fakes some video footage of a UFO landing which is aired on local television. However, Zach's prank is soon revealed to be just that, and he finds himself an outcast among his peers. When Zach begins seeing evidence of real UFO activity -- strange lights in the sky, school busses disappearing and materializing again -- no one is willing to believe him, except Kara (Melissa Galianos), who is also on the outs at her school. With the help of an eccentric comic book artist and a patient at a nearby mental institution, Zach and Kara try to save their town from an oncoming alien invasion. Mark Hamill also makes a brief appearance.
Rating:
PG-13 (adult situations/language, violence)
Genre:
,
Directed By:
In Theaters:
On DVD:
Runtime:
Studio:
York
Audience Reviews for Laserhawk
½
[center][img]http://i15.photobucket.com/albums/a392/thirdmaninyellow/Misc/laserhawk.jpg[/img] [/center] [font=Courier New][i] Laserhawk[/i] is the kind of straight-to-video movie that feels like it is going to work and you are going to enjoy yourself. And that statement is almost entirely true for me. Jean Pellerin's [i]Laserhawk[/i] might not have an A-list collection of celebrities, nor a good enough budget to supply itself with convincing special effects. But it did manage to create a story that was very engaging, and a lot of fun. But then something bad happened. Zach Raymond (Jason James Richter) isn't on the public's good list after he performed a U.F.O. hoax. This stunt however did catch the interest of Cara (Melissa Galianos), who is sort of the high school outcast. Things get complicated when actual aliens do invade Earth. Their first strike is on a school bus carrying jocks and cheerleaders. The ship the aliens arrive in is similar to the one that Zach created for his hoax. And it is also the same design used for a popular comic book series by M.K. Ultra (Gordon Currie). After visiting with M.K., the two teens discover the inspiration for the comic book series came from the stories of a institutionalized man named Bob (Mark Hamill). And it turns out he is actually an alien sent to protect the human race from being turned into food for the invading menace. Like I said, the movie does contain a pretty interesting story and carries it through a nicely paced film. Richter was enjoyable to watch, and held the movie together. I wish they would have given Galianos better lines to say, but I did feel she paired up nicely with Richter. Currie's performance was a little over the top, and I did feel like his character could have been kept to a minimum. Hamill was, as always, a blast to watch. But as usual, his appearance in the film is strictly for nostalgia purposes. The "something bad" I referred to at the beginning of this review was the film's ending. Have you ever seen [i]Independence Day[/i]? Well if you have, do you remember how that movie ended? If you remember that, then you already know how [i]Laserhawk[/i] ends. Except for a few minor changes… there is no computer virus involved in this film… [i]Laserhawk[/i]'s ending is a shot for shot remake of [i]Independence Day[/i]'s finale. I guess it might seem a little harsh that I would fail this movie for that fact. But with the film's excellent pacing, and its ability to keep me entertained, I expected something more out of the ending. But alas, there is some fun to be had with[i] Laserhawk[/i]. It was a fun discovery, and despite its failing grade I did like a lot of the film, and can see myself watching it again sometime in the future.[/font]
Bryan Gomez
Once again a decent plot idea given a poor treatment. The special effects are not even very good in this sci-fi mess. It doesn't move along very well, most definitely it has some slow stretches. The acting is fair.
James Higgins
½
I love Mark Hamill in this movie, although he has a small part, he's brilliant. This movie also has excitement, good sci-fi elements, and an interesting story. I really liked it.
Laserhawk Quotes
There are no approved quotes yet for this movie.