Laskar pelangi (The Rainbow Troops)
(2008)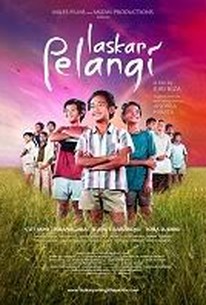 AUDIENCE SCORE
Critic Consensus: No consensus yet.
Movie Info
One teacher makes a surprising difference in his students and his community in this drama from Indonesian filmmaker Riri Riza. Ikal (Lukman Sardi) was born and raised on Belitong, an island dominated by local mining concerns. On Belitong, a handful of people have become rich off the island's natural resources while those who work the mines see little of the financial rewards, creating a sharp divide of social and economic class. But Ikal recalls one man who sought to change this -- Muslimah (Cut Mini), a teacher at the island's public school. In a place where many felt their destiny was determined by their parents' occupations, Muslimah encouraged his students to believe that knowledge could overcome the artificial barriers that come with money and position, and his message had a powerful impact on youthful Ikal (Zulfani) and his pal Lintang (Ferdian). Laskar Pelangi (aka The Rainbow Troops) was an official selection a the 2009 Berlin International Film Festival. ~ Mark Deming, Rovi
Rating:
NR
Genre:
,
Directed By:
In Theaters:
Runtime:
Audience Reviews for Laskar pelangi (The Rainbow Troops)
Every now and then, you come across a touching, emotional movie that connects with you through a shared sense of innocence and nostalgia for the things from your childhood that made you into who you are today. 'Laskar Pelangi' is one of those movies. No matter what its weakness (and it does have them, as do all films), 'Laskar Pelangi' manages to overcome them because it preaches a powerful and valuable message without becoming, well, preachy. I feel that, far too often these days, movies do not know how to communicate a lesson well at all. They either present one ineffectively (in either a preachy or lazy way) or they simply decide to forgo presenting one at all --- a film with no point to it. Neither situation is the case here. LP has its heart in the right place and succeeds on nearly all accounts. As its focus is on childhood education and the importance childhood experiences bring to adult years, LP features mainly child actors along with a strong performance from professional actress Cut Mini. It is worth noting that most of the child actors were from the actual island of Belitong and were not professionals. They did a phenomenal job with the material. The characters and their development are well written, and the cinematography and direction are solid. The soundtrack deserves a shout-out as well, combining both Eastern and Western styles. All things together, 'Laskar Pelangi's heart and determination are things to be admired, and I wished more films had half as much spirit as this Indonesian gem.
Todd Bollinger
One of the best indonesian movie in store today from a brilliant Indonesian director Riri Riza. Hope that Indonesia could make more of movies like this in the future. It can be described as a fun one and it teaches us how to not be afraid to dream a little more.
Nadira Irdiana
Super Reviewer
I would say 4 stars for this movie cos I really like the story line and how it is different and inspirational. Worth showing internationally because it shows much of Indonesian's culture and how we want the education and how miserable the condition of schools and education is. Riri Riza also made it with a weird kinda "experimental" way to show the feeling of Ical when he broken-heart in bollywood way nicely I think.
?? ?
Discussion Forum
Discuss Laskar pelangi (The Rainbow Troops) on our Movie forum!