Last Days Here
(2012)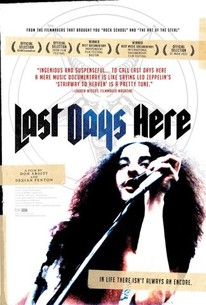 Movie Info
Cult rock legend Bobby Liebling has been churning out genre-defining hard rock for over 36 years as the lead singer of the band Pentagram. Various acts of self-destruction, multiple band break-ups, and botched record deals have condemned his music to obscurity. Frozen for decades in his parents' basement, Bobby is finally discovered by the heavy metal underground. With the help of Sean 'Pellet' Pelletier, his friend and manager, Bobby struggles to overcome his demons. Directed by Don Argott and Demian Fenton, Last Days Here chronicles the triumphs and downfalls of this underground icon who finds himself at the crossroads of life and death. -- (C) IFC
News & Interviews for Last Days Here
Critic Reviews for Last Days Here
Audience Reviews for Last Days Here
Last Days here is a great music documentary Singer Bobby Liebling and his band Pentagram, one of the pioneers of Doom Metal, and a very talented band that never got a contract. Liebling began using drugs and faded into obscurity even before he hit it big. The film takes a look at how one fan tries to help Bobby kick his drug habit and record a new record, which may be his comeback record in doing what he was supposed to do. This is a great music documentary very similar to Anvil! The Story of Anvil. This is a must watch for metalheads and anyone that enjoys this type of music. The film takes an unflinching look at the struggles of Liebling and how he tries to get his life together. In terms of a documentary, this is a well crafted movie that is sad, disturbing and uplifting at times. As a diehard metal fan, I really enjoyed the film despite the fact that it was hard to watch at times. The high point of the documentary was seeing the guys from Down, Phil Anselmo and Jimmy Bower meeting Bobby and Anselmo who owns Housecore Records and encouraged Bobby to keep making music. This ranks among the best music documentaries that I have seen and the film does have a similar ending to the Anvil documentary. Pentagram are a brilliant band, and they deserve plenty of exposure. In the end, the film is about a musician getting a second chance and when you see Bobby Liebling on that stage, he really is in his environment. His band shaped a metal subgenre, and has influenced many bands. If you're into the music, give it a shot.
½
Fascinating and tragic doc on the strung out singer of Pentagram. If you're a fan of rock docs like 'Lemmy' and 'Dig', you shouldn't miss this one.
A story of addiction and redemption that is unlike anything you have ever seen! Bobby Liebling and his band Pentagram, should have been America's answer to Black Sabbath. But, a series of missed opportunities and a horrifyingly bad drug habit. Kept this very talented musician and his music from the limelight. This gripping documentary focuses on Liebling and the few people in his life, that have not given up hope. That he will kick his habit, face his demons, and make a triumphant return to the stage. This shouldn't be missed!
Jason Reneau
Super Reviewer
Last Days Here Quotes
There are no approved quotes yet for this movie.