The Last Exorcism
(2010)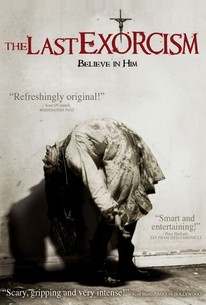 TOMATOMETER
AUDIENCE SCORE
Critic Consensus: It doesn't fully deliver on the chilly promise of its Blair Witch-style premise, but The Last Exorcism offers a surprising number of clever thrills.
Movie Info
Disillusioned charlatan Reverend Cotton Marcus (Patrick Fabian) comes face to face with pure evil after recruiting a documentary film crew to capture the final exorcism of his career. For years, Reverend Marcus has taken advantage of the faithful and desperate. Now it's time for him to finally come clean. Just as Reverend Marcus prepares to shoot the film that will set the record straight, he receives an urgent letter from a desperate farmer. The devil has taken possession of his beloved daughter Nell (Ashley Bell), and Reverend Marcus is their last hope for salvation. Up to this point it's been all fun and games; now things are about to get serious. ~ Jason Buchanan, Rovi
People Who Like this movie also like
News & Interviews for The Last Exorcism
Critic Reviews for The Last Exorcism
Audience Reviews for The Last Exorcism
½
A competent mockumentary that employs a precise pace to follow a charlatan Reverend who exploits people for money until he encounters more than he bargained for. Suffice to say that it grows really terrifying, but the editing is flawed like most productions of the kind.
Carlos Magalhães
Super Reviewer
*** The first time I watched this was when it first came out, and I watched it on a bootleg copy. I wasn't really in the mood for a movie, but watched it anyway, and didn't really enjoy it. I think my mood and the copy really had a lot to do with it. I would recommend re-watching movies on dvd/blu ray if you watch it originally on a cam bootleg. You really see two different movies. I hadn't revisited this until I got a copy of the second one and thought "I don't really remember anything from the first one". So, I re-watched it, and found that it is much better than I remember. This movie is very effective and has a unique spin on exorcism movies. It's about a preacher who wants to prove that exorcisms are a scam, so he takes 2 people on a trip with him to perform an exorcism on a girl named Nell. Only, things with Nell are different and his plan doesn't quite work like he thought it would. Shown in POV(like "Blair Witch"), you get a really good sense of being there. It's not nearly as jarring as most of these movies are. Now, is it a great horror movie? Not really. I feel like it could have gone farther with some things, and the ending is still a little weird, but effective. However, it is better than a lot, and definitely worth re-watching.
Everett Johnson
Super Reviewer
[img]http://images.rottentomatoes.com/images/user/icons/icon14.gif[/img] The found-footage genre has been abused so many times since The Blair Witch Project's surprise success, I think the only reason that it was used in The Last Exorcism was to bring in the money. But this is surprisingly not your typical run of the mill fare. There's this weird presumption nowadays that if a horror film is made to look like it was captured on a handheld camera that it will scare us more. The idea itself is preposterous and this film is proof. It manages to be creepy, thought provoking and eery without the full use of it's mockumentary style. However this is a criticism rather than a compliment, it failed to sew that illusion after the first 30 minutes. So the way it's been filmed is a failure. Other than that there are several problems. There is a lack of long and tense builds ups, a slow and overly self-explanatory beggining, and possibly one of the worst endings in recent memory. After having a good 50 minutes or so of incredibly convincing performances (particularly the promising Ashley Bell), a good number of well directed frights and some rough character development it throws absolutely everything out the window by wimping out with a brainless, unimaginative and very cliched cop out finale. To forgive it and then say the film is a solid horror piece would be absolutely pushing it. But this is the first genuinely creepy film with an Eli Roth production credit. I think his debut film Cabin Fever is acceptable, and I think the Hostel movies are lame and predictable. But backing off as producer he has teamed up with a director who knows what he's doing, up to a point. Despite it's lack of originality, it's horrible ending and it's genetic predictability, The Last Exorcism overall never fails to intrigue.
Directors Cat
Super Reviewer
The Last Exorcism Quotes
| | |
| --- | --- |
| Nell Sweetzer: | I hear you don't believe in me. |
| Cotton Marcus: | Who are you? |
| Nell Sweetzer: | Abalam. |
| Cotton Marcus: | Where's Nell? |
| Nell Sweetzer: | In the fire, she's been there for some time soon you'll join her. |
| | |
| --- | --- |
| Reverend Cotton Marcus: | If you believe in God, then you gotta believe in the Devil. |
| | |
| --- | --- |
| Nell Sweetzer: | Hey, Kitty kitty. (Begins stabbing cat to death while video taping it). |
| Nell Sweetzer: | Hey, Kitty kitty. [begins stabbing cat to death while video taping it] |
| | |
| --- | --- |
| Cotton Marcus: | Is that regular water? |