The Last Flight
(1931)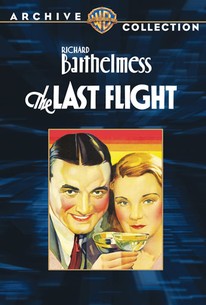 AUDIENCE SCORE
Critic Consensus: No consensus yet.
Movie Info
Curiously reminiscent of Ernest Hemingway's Sun Also Rises, The Last Flight dramatizes the "Lost Generation" of the 1920s. Four Yankee army buddies (Richard Barthelmess, Johnny Mack Brown, David Manners and Elliot Nugent) are invalided out of service during World War One, victims of profound physical and emotional injuries. Disillusioned by their wartime experiences, the foursome head to Paris, there to spend their waking hours getting drunk. They meet an enigmatic young American woman named Nikki (Helen Chandler), a kindred spirit who becomes their constant companion. Because of their reluctance to invest their true emotions in anything, an unspoken agreement between the five lost souls precludes sex with Nikki, but this does not stop a mutual friend (Arthur Byron) from clumsily trying to seduce the girl. In search of excitement, Nikki and the boys head for Portugal, where on impulse one of the men jumps in the ring during a bullfight. He is mortally wounded, and when asked why he exposed himself to certain death, he replies "It seemed like a good idea at the time." Gradually the friends' ranks diminish due to misadventure and sudden death, until only Richard Barthelmess is left. He meets Nikki on a train bound for Lisbon, where the two melancholy expatriates finally declare their love for each other.
Critic Reviews for The Last Flight
All Critics (3) | Fresh (3) | Rotten (0)
Where most of the memorable artifacts of pre-code cinema liked to flaunt its defiance of social decorum, The Last Flight makes an effort to shake up and unsettle the viewer, and it succeesds.
The Last Flight is a bracing tale of the Lost Generation, and one of cinema's least known masterpieces.
Audience Reviews
There are no featured reviews for The Last Flight at this time.
The Last Flight Quotes
There are no approved quotes yet for this movie.