Last Hunter
(1980)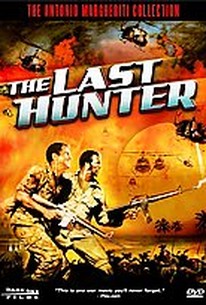 AUDIENCE SCORE
Critic Consensus: No consensus yet.
Movie Info
In this derivative war-action film by Antonio Margheriti, both the Deer Hunter and Apocalypse Now have been raided for scenes and events that were rearranged to tell the story of an American officer who treks far into North Vietnamese territory to retrieve a radio transmitter that is broadcasting propaganda messages to U.S. soldiers.
Rating:
NR
Genre:
Directed By:
Written By:
On DVD:
Runtime:
Studio:
World Northal
Critic Reviews for Last Hunter
There are no critic reviews yet for Last Hunter. Keep checking Rotten Tomatoes for updates!
Audience Reviews for Last Hunter
BETTER THAN APOCALYPSE NOW! . . . BEST VIETNAM MOVIE!!!!! Anthony M. Dawson (Antonio Margheriti) the director of Apocalypse Domani (aka Apocalypse Today, Cannibal Apocalypse, Invasion of the Flesh Hunters, Cannibals Are in thee Streets), KILLER FISH, YOR HUNTER FROM THE FUTURE combines The Deer Hunter, From Here to Eternity, Apocalypse Now! into The Best Vietnam War Movie Ever!!!!! Just as in Joseph Conrad's Heart of Darkness, The Guy has to go "Up River" to KILL Margit Evelyn Newton (from Hell of the Living Dead) who is demoralizing American troops in Vietnam like "Hanoi Jane" Jane Fonda did to our troops during the Vietnam Conflict. David Warbeck is The Guy and he plays a similar character to The Guy he played in A FISTFUL OF DYNAMITE (in a lover's triangle, David Warbeck is The Guy who's Just a Friend and doesn't get The Girl--in a Fistful of Dynamite, Warbeck has a giant mole on his forehead because Sergio Leone deemed him too pretty for the role). I AM CRAZY OVER THE FRANCO MICALIZZI SOUNDTRACK!!!!! even though RCA publishes it, I've yet to see a descent Lp or CD rip of the score . . . MAJOR BUMMER!!!! I have Micalizzi scores for Chi Sei and The Visitor but not for THE LAST HUNTER and that SUCKS . . . I have THOUSANDS OF SCORES AND ALBUMS. here, someone write to RCA and CAM and get them to release an official LAST HUNTER soundtrack it would be called "L'ULTIMO CACCIATORE conno sonora di Franco Micalizzi" I LOVE THE SOUNDTRACKS MORE THAN THE MOVIES THEMSELVES.
Gordon Terry
½
Did you know that there was a sequel to the 1978's academy award winning film to The Deer Hunter? Chances are you didn't but then again do unofficial Italian sequels count anyways? Believe it or not Antonio Margheriti's macaroni combat cult classic The Last Hunter was originally made as a "sequel" to The Deer Hunter. The Deer Hunter was released in Italy as Il Cacciatore and I shit you not The Last Hunter was originally made as Cacciatore 2. Promotional posters were even printed up with this title! Wisely though the title was changed to L'ultimo Cacciatore before release so now The Last Hunter is just merely a rip-off of The Deer Hunter instead of a "sequel." They probably changed the title because they knew no one would believe a cheap Italian film by B-movie vet Antonio Margheriti would be a "true" sequel to one of the best films ever made. The Last Hunter (a title that really has no relevance to the film) takes place during the Vietnam war and our G.I. David Warbeck is assigned to go stop a radio DJ that is broadcasting anti-war messages to troops from her radio station deep in strong territory. The kicker is she is the widow of Warbeck's best friend who ended up killing himself. Can he separate his emotions from his mission? The Last Hunter marked a new chapter in the Macaroni Combat subgenre as it was the first film to take place during the Vietnam War (almost all previous films in the genre took place during World War II). If you thought it was strange for Italy to make films about the American west then wait till you see some of these films about a war they didn't even partake in! Everything in this film is typical 80's Italian action fashion. We get a ridiculous plot, over-the-top violence, anti-heroes, stylish directing, and a kick ass synth score that is delightfully awkward considering the backdrop of the film. What's all this mean? A great time for fans of cheesy Italian action films that's what! I would even go as far to say that The Last Hunter is probably Magaratti's best film from his 8o's action rip-off era. If you're a fan of this type of cinema (You people know who you are) then I highly recommend it! The Last Hunter is actually one of the few Marghareti films to get a proper DVD release here in the States. I was used to watching old worn-out VHS copies and bootlegs so I was delighted to find that Dark Sky Films was going to release the film on DVD fully restored and in widescreen. The film was part of their line of "Antonio Marghareti" films so it got my hopes up eventually seeing other delightfully absurd films of his to come to DVD (Tiger Joe anyone? Hunter of the Golden Cobra?). Sadly I don't think the DVD sold that well so we will probably never see any more lost Marghareti classics come to DVD. DAMNIT!
Eric Reifschneider
Last Hunter Quotes
There are no approved quotes yet for this movie.
Discussion Forum
Discuss Last Hunter on our Movie forum!