Last Play at Shea
(2010)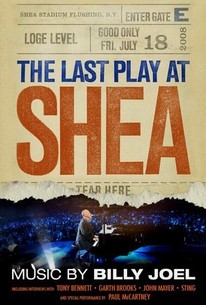 AUDIENCE SCORE
Critic Consensus: No consensus yet.
Movie Info
The Last Play at Shea is a unique documentary concept intended to escape the traditional narrative and current trend of biographical rock documentaries. Through the prism of Billy Joel's extraordinary career and blue collar perspective, The Last Play at Shea will chronicle the waning days of Shea Stadium through a tapestry of performance, historical documentary and personal journey while at the same time providing audiences with a pop-culture snapshot of a seminal era in New York history. -- (C) Spitfire Films
Rating:
PG
Genre:
, ,
Directed By:
Written By:
On DVD:
Runtime:
Studio:
Critic Reviews for Last Play at Shea
All Critics (3) | Top Critics (2) | Fresh (2) | Rotten (1) | DVD (1)
Guaranteed to put lumps in the throats of longtime New York residents and suburbanites, especially Long Islanders, this fist-pumping, backslapping film is, first and foremost, an up-close record of Mr. Joel's two Shea Stadium concerts.

New York Times
Top Critic
The show eloquently chronicled the end of an era; in terms of doing justice to what the loss meant to New York and beyond, this sappy, sloppy souvenir can barely make it to first base.
All one need do is experience the emotion evident in every bar sung by the Long Island-raised Piano Man to understand the Mets' inextricable place at New York's heart.

Audience Reviews for Last Play at Shea
½
/// On July 16th and 18th, 2008 Joel closed out Shea with two sold out shows before its slated demolition. Last Play at Shea incorporates both concert footage of the epic send-off and a history of the performer, the stadium, and their team making this unique film a peach for Billy Joel fans and a compelling historical document. Directors Crowder and Small cleverly intercut footage from Joel's concert with the history of the revered facility, and as a surprisingly profound bonus, the career of Joel himself, which seems inextricably linked to Shea. And so when Crowder and Small relive the key events of Shea, we get to experience some of the most dramatic moments in baseball history again. Shea's significance as a concert hall and the site of that legendary Beatles performance in 1964, which signalled both the birth of Beatlemania in the United States and the introduction of the stadium to the world. Outside of the U.S., Shea became synonymous with The Beatles and was thus in demand by the biggest bands in the world for their concerts. Footage of The Beatles, The Police, and of course Joel himself is thrilling to watch. Paul Crowder's The Last Play at Shea documentary is less a concert film than a continuation of the sentimental farewell. A surprisingly large amount of the running time is devoted to interviews with...well, just about everyone. You get interviews with ball players (Tom Seaver, Daryl Strawberry), sports analysts, assorted individuals who have played a large role in stadium's history, experts on the history of Queens and particularly the musicians participating in the concert (Joel, Paul McCartney, Sting, Roger Daltrey, John Mayer, Garth Brooks, and Tony Bennett). Everybody gets pretty sentimental about it; Shea means something to everyone. The film's biggest liability is perhaps its expansive, free-flowing nature, as it wanders away from the concert for very lengthy stretches to indulge only modestly interesting interviewees or present documentary pieces on the history of Shea (accompanied by narration from Alec Baldwin and light animation), examinations of Joel's life and career, explorations of important moments in Mets history...after a while, one starts to forget what exactly The Last Play at Shea is supposed to be about. Like a sob story from a colorful drunk, the film is meandering, unfocused and compelling all at once. For better or worse, all of this stuff is just thrown up on the screen with as much feeling and as little sense of purpose as possible. Personally, I was happiest whenever the film would go back to the primary event. The musical numbers (often presented in snippets, sadly) are lively and engaging, with Joel running through a series of his biggest hits. The guest performances are a treat, too: Tony Bennett seems livelier than usual when dueting with Joel on "New York State of Mind," while Joel and McCartney seem to enjoy getting the chance to play "Let it Be" together. As you might expect, the music veers towards the sentimental side of Joel's catalogue, with tunes like "Lullaby," "Goodnight Saigon" and "She's Got a Way About Her" making prominent appearances. The Last Play at Shea isn't particularly good as a Billy Joel documentary, concert film, Shea Stadium documentary, or cinematic experience, but there's something charming about it nonetheless. The Last Play at Shea sentimentally intertwines the biography of pop superstar Billy Joel with the story of Shea Stadium as they came together in 2008 for the last concerts held there before its demolition. Creatively, both of their stories are viewed in the context of the rise of the baby boomers and the suburbanization of working-class New York, illustrated with cute animations and some archival footage (with au courant revisionist approval of Shea's master-builder Robert Moses's construction projects). In addition to plenty of the usual game highlights and Mets memories for sports fans and the official spin on Joel's ups and downs familiar from the tabloids, a longtime groundskeeper keeps the documentary segments (directed by Paul Crowder) amusingly grounded. The concert excerpts (directed by Jon Small) feature guest stars who resonate with the stadium's history, from Queens native Tony Bennett dueting with Joel on "New York State of Mind" to the ecstatic climactic medley with Paul McCartney that commemorates the Beatles' famous performance there in 1965. As a big-budget entertainment, several versions of the film will be released. Though the film takes its name from Joel's two-night, venue-closing stand at Shea in the summer of 2008, it's not really a concert film. Instead, it cleverly weaves highlights from Joel's shows and the history of the Mets. A mostly nostalgic portrait with a warm voiceover provided by Alec Baldwin and talking heads ranging from Mets greats like Tom Seaver to Joel's friends like Christie Brinkley, it focuses on the major triumphs of both the team and the artist, never dwelling for very long on the negative side of things. What is here, though, moves along briskly with fun anecdotes from Joel and the former Mets; I particularly enjoyed learning about Shea groundskeeper Pete Flynn, who tended to the stadium's Kentucky Bluegrass for every one of its 44 seasons and who, according to Mike Piazza, would watch the occasional promotional events where children were allowed to run on his field boiling with rage at their intrusion. Non-Joel fans might chide director Paul Crowder's on-the-nose soundtrack selections - his choice, for instance, to score Joel's interview about his traitorous ex-brother-in-law and manager to the soundtrack of "Honesty" - but they accurately reflect the directness of Joel's music, which has always been more about storytelling than poetry. If Crowder's technique is blunt, it's never more so than his subject's. "The Last Play at Shea" strikes a celebratory tone throughout, not surprisingly, given that one of the two primary producers, Steve Cohen, worked as Joel's live production designer and director for 36 years. (According to Cohen's statement in the press notes, he developed the film on orders from Joel.) As enjoyable as "The Last Play at Shea" is, there are enough moments of richer insight nibbling at its edges to make you wonder what it would look like if had it been shepherded by folks who weren't longtime employees of its subject. Its most fascinating segments are the ones that reveal, often indirectly, the darkness in Joel's life. This is a man who loves music who has been repeatedly hurt by the music business, who's sold more than 100 million albums but who seemingly can't stand the way he looks, repeatedly putting down his physical appearance and describing himself at one point as an "unbelievably not good-looking guy."
John Tandlich
½
Man, Billy Joel is such a master of rhyme, even his documentary titles rhyme in a clever fashion. Shea Stadium, through stretch of a chain of mistaken identities, seems perfect for Billy Joel, because Shea sounds like it's somewhere in Asia, which sounds like it would be home to pekingese dogs, which is pretty much what Billy Joel looks like nowadays, only with much less hair. He may very well be one of the greatest musicians of all time, but the years have not been good to his looks, alone, which is why I went in terrified to see if the swill that is modern "music" has tainted one of its pinnacles, like it has many of the rest, because no matter what Billy says (Get ready to spot the "subtle" hints towards Billy Joel songs), after all the phases, new waves and dance crazes, it's not rock and roll to me anymore. Rock may have ruled for the longest of times, yet its end felt as though it came too soon, because as we all know, only the good die young, and no little push can make me smile through that. Well, thank goodness I can at least keep the faith in the piano man, because he's still rocking, so, like Brenda and Eddie, don't count on the tears, as it would appear as though I was right in my hopes. Well, then again, I may be may be wrong; I may crazy, because just about the only songs Joel played at this concert are as old as dirt. Of course, that's the way I like it, and it sure made for a good concert, though perhaps not much more than a decent documentary, and for a couple of reasons. A highly unconventionally structured documentary of its type, the film boasts not one, but a variation of central focuses, studying upon not only the life and career of the great Billy Joel, but also the history of the Shea Stadium, including its being an icon as not only a musical concert stadium, but also a baseball stadium. Undeniably, it's a geniusly unique concept that could have actually very much worked like a dream to create a very upstanding piece within modern documentaries of its theme, or rather, themes. However, at a mere 96 minutes, this documentary is hardly long enough to provide extensive meditation upon its central focuses, let alone the sub-focuses, and while its information doesn't feel terribly riddled with holes, it doesn't spend enough time focusing on discussions, nor creating organic transitions between the focuses, thus rendering the film jarring in its thematic jumps. A particularly notable aspect to the film that goes especially tainted by the sloppy, hurried storytelling is Billy Joel's interspersed concert at the Shea Stadium, shortly before its demolition, which is an aspect that doesn't sound all that significant when compared to the documentary's primary objectives, yet it's actually a fairly key aspect to the resonance of the whole product, and its uneven presence not only drives a degree of inconsistency in the film, but also dilutes potential for deeper emotional touches. At the very least, maybe it would have added a bit more subtle symbolism to the emotional aspects, which it does often bring to the table for the occasions in which it is strongly emphasized, something that the documentary seriously needs, for although it's not terribly saccharine in its resonance, there's still plenty of attempts at emotion - particularly when it comes to the Shea Stadium history segment - that just kind of come off as rather sugary. In all honesty, the film starts out having some surprisingly strong momemtum and steam, yet its proceeding to have so many slip-ups ultimately leaves it to lose too much steam to fully recover. However, for all of its faults, the fact of the matter that the film still aspects that does, in some spots, give it some steam, and while this play is ultimately no real knockout, it wins you over more than it loses you, and does so mostly through its nifty tricks. The film will occasionally incorporate very well-done animated visualizations that really add a lot of stylish texture and livliness to the film, as well as a degree of attention-grabbing uniqueness. A more prevalent style aspect is the editing, which is snappy and smooth, with clever and nifty tricks that really flow into each other quite comfortably. Not only that, but the editing also adds a degree of organic flow within the focuses and their transitions into each other, because although the story structure remains anything but comfortable, it would have been much sloppier without such crackerjack editing techniques. Still, the fine style and, of course, awesome soundtrack and concert footage are mere supplements to the bigger picture: Intense entertainment value, because if nothing else can be said about Paul Crowder's direction, it's thoroughly lively and grippingly spirited. True, this spiritedness may occasionally get out of hand and exacerbate the more sentimental moments of the documentary, yet Crowder and, well, most everyone involved in the production of this film really have heart in it, thus supplementing the resonance more than hurting it and making the film pretty engaging throughout, if not just plain moving at points, even with all of its steam loss, while its general informativeness makes it quite fascinating, even if it doesn't cut terribly deep into its subjects. Wow, I really am sounding as though I'm about to contradict just about everything I said in reference to this film coming off as ultimately underwhelming and give it an ultimately pretty kind rating. Make no mistake, at the end of the day, the film falls just short of hitting all that hard, and I dread that to no end, yet that's simply because the final product just barely misses its mark, as it remains riddled with many fine strengths that really do make it an entertaining watch that may not fully satisfy the viewers, let alone its pretty promising potential and concepts, yet is still generally worth the experience. At the end of this last play, the film boasts very promising concepts, though not enough time to explore them, failing to create a terribly organic and even flow in structure, let alone cut all that deep into its focuses, while the occasional both in resonance leaves emotions to fall as kind of sappy and help in leaving the final product to lose steam, little by little, until it ultimately comes out as underwhelming, yet just barely, because with nifty ambition and style, as well as excellent editing and inspired, highly spirited direction providing extremely livliness into the production in order to spice up its general informativeness and produce the occasional piece of genuine emotional effectiveness, "The Last Play at Shea" ultimately stands as an improvable, yet thoroughly entertaining and generally fascinating portrait on two of New York's legendary prides. 2.5/5 - Fair
Cameron Johnson
Super Reviewer
"Last Play at Shea" is three movies all rolled into one. It's two stories interweaving and how they come together. It's the story of Shea stadium and it's history. It's also the story of Billy Joel's life and career. They come together as Billy Joel performs the final concert ever at Shea. The concert features help from Tony Bennett, John Mayer, Steven Tyler, and Paul McCartney, and is a real spectacle of a show. It's very interesting and entertaining, especially if you like Joel's music. He sounds just as good now as he did when he was younger. You can tell how much New York and Shea really mean to Joel on a personal level. It really works good as a documentary and a concert movie. Music lovers should definitely check it out.
Everett Johnson
Super Reviewer
Last Play at Shea Quotes
There are no approved quotes yet for this movie.