Last Seen at Angkor
(2007)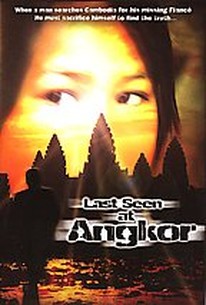 AUDIENCE SCORE
Critic Consensus: No consensus yet.
Movie Info
Rating:
NR
Genre:
On DVD:
Runtime:
Critic Reviews for Last Seen at Angkor
There are no critic reviews yet for Last Seen at Angkor. Keep checking Rotten Tomatoes for updates!
Audience Reviews for Last Seen at Angkor
I hate bagging on B movies. I really do. As everybody knows, I want to make them eventually, so for me, every B movie is an opportunity to see what's possible. And I can honestly say that if given this budget and this cinematographer, I could easily make a better film. Most people could. Let's debunk a big myth right now before we go any further: you do not need a big budget to make a good movie. If you don't believe me, watch SWINGERS (Doug Liman, 1996), or any movie made by the French New Wave, which could all be made for the budget of this movie (even ALPHAVILLE (Jean-Luc Godard, 1965)), and they are by and large masterpieces. By the same token, you can make a terrible movie with a huge budget (see Michael Bay's entire career). What do all great low budget films have that this movie doesn't have? A talented director and a great script. But I'm getting ahead of myself. Back to the plot summary: LAST SEEN AT ANGKOR is about a guy (Michael R. Morris) who hires a guide (Thomas Lim) to help him find his fiancee, who disappeared while she and the main character were on a trip to Thailand. He got drugged, and when he woke up, she was gone, so now he wants to find her, and is willing to spare any expense or amount of my time watching him. For most of the film, he wanders around Thailand as his guide goes and supposedly searches for this girl. After half an hour of nothing, the guy gets beat up (off camera), and reveals that the Thai equivalent of the Yakuza is involved. That doesn't make things more exciting, as the pattern pretty much just picks up where it left off. Then there's some crap about Thai prostitution (the threat is somewhat like in TAKEN (2008, Pierre Morel), where they think she's been turned into a prostitute), then we get back to the fruitless search, get one more action scene, then a reveal that the filmmakers pulled of their ass that contradicts all of the behavior of the guide throughout the film, and then it finally ends. Okay, so what's wrong with this movie? First of all, the "search" is like watching a documentary about kids looking for their lost dog - not stylized or filmy, really watching them go door to door, show people a picture of the dog, and move on to the next house. Second of all, none of the characters are developed or interesting - they're pretty much the stock characters who would be in this film. The dialogue is okay, but nothing special. Third, /nothing happens/. What I kept asking myself was that if you could do three action scenes, why couldn't you intersperse the film with them? Why only do three? Fourth, all the stuff with the prostitutes was supposed to somehow lead you to the "twist," I guess, but the prostitutes were terrible actresses, so none of that stuff worked. Finally, the twist makes you ask why the guide said and did half the stuff he said and did. (And if this keeps happening, where did this guy get all that money to begin with? Wouldn't he have spent it all years ago?) Again, the fact that the cinematography and the musical direction are first rate makes it even more maddening. These filmmakers were not without resources. They seem to have shot in Thailand, in fact! And there are images in this movie that are absolutely beautiful. The story and direction are so piss poor, however, that it ultimately doesn't matter. This movie is boring, poorly written, and as a result, overall poorly executed. It adds credence to the argument that you just can't make a good movie for no money, which I know just isn't true. The sad reality of the world of film is that not everybody who wants to do it, or is capable of getting a film made really belongs there. I'm envious at this guy's ability to get this done. I just wish he was a better filmmaker.
Aslum Khan
Last Seen at Angkor Quotes
There are no approved quotes yet for this movie.