Last Tango in Paris
(1972)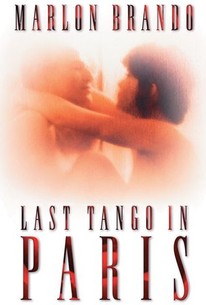 TOMATOMETER
AUDIENCE SCORE
Critic Consensus: Naturalistic but evocative, Last Tango in Paris is a vivid exploration of pain, love, and sex featuring a typically towering Marlon Brando performance.
Last Tango in Paris Photos
Movie Info
In Bernardo Bertolucci's art-house classic, Marlon Brando delivers one of his characteristically idiosyncratic performances as Paul, a middle-aged American in "emotional exile" who comes to Paris when his estranged wife commits suicide. Chancing to meet young Frenchwoman Jeanne (Maria Schneider), Paul enters into a sadomasochistic, carnal relationship with her, indirectly attacking the hypocrisy all around him through his raw, outrageous sexual behavior. Paul also hopes to purge himself of his own feelings of guilt, brilliantly (and profanely) articulated in a largely ad-libbed monologue at his wife's coffin. If the sexual content in Last Tango is uncomfortably explicit (once seen, the infamous "butter scene" is never forgotten), the combination of Brando's acting, Bertolucci's direction, Vittorio Storaro's cinematography, and Gato Barbieri's music is unbeatable, creating one of the classic European art movies of the 1970s, albeit one that is not for all viewers. ~ Hal Erickson, Rovi
News & Interviews for Last Tango in Paris
Critic Reviews for Last Tango in Paris
Audience Reviews for Last Tango in Paris
½
The most bizzare Marlon Brando movie ever. Last Tango actually could look like a typical movie with Brando, but with much more heavy and raw material. The jawdropping surrealista and sometimes involuntary hilarious dialog bring much more genius status to this piece. It's quite weird because, it's a boring film, but also present entertaining scenes. I liked specially the last half hour of movie. Because of that I give a higher note. A very very weird film, maybe if for that I liked too.
Lucas Martins
Super Reviewer
So evocative in its day, this film does not hold up under the scrutiny of thirty years. At the time it was unsettling, possibly harsh, to see an erotic film that bordered on sado-masochistic, maybe even crossing that fine line, because it was a subject never covered before. Still, the scenes are practically tame (except for one) compared to today's sanctimonious art house dribble. There were even more explosive films of refuse floating around at that time, but because of Marlon Brando's pull as a classically famous actor, this got special attention. There were certainly redeeming qualities to this treasure trove of erotic lore, including the over the top direction. Bertolucci seemed to have his own flair, having written and directed this film, but it's the stylization that keeps interest throughout the dragging plot. His use of music, of close, uncomfortable shots, and long, uninterrupted shots, was strangely tight, like a hand at your throat. The reason it doesn't work as an erotic drama is because of the budding relationship between our two leads. Brando plays a widowed expatriate American who meets a nameless woman (Schneider) in an apartment that is being showed to rent, and out of nowhere they start a sexual relationship. Neither of them seem to care or know why this is happening, and the ensuing relationship is cold and unbelievable. The characters make sense as a whole, especially Brando's with the climactic ending. Still, they aren't interesting and they don't hold interest either. Though Jeanne (Schneider) has a side story with her fiance and Paul (Brando) has to deal with an unruly ex-mother-in-law, they are readily defined as automatons that meet every so often and have miscellaneous sex. Beside that they are shown as kooky, rambunctious people without a grasp of language or of their baser emotions. Brando crows half the time, and Schneider blithers adolescent angst throughout, baring her breasts and running through the streets of Paris to escape yet another suitor. The ending, though blunt and as lifeless as everything else, was the only surprise of the film. Brando may have been impressive as always, but his character was annoying, petulant, and dull. It was far too long, and paced horrifically, so overall I found this to be pretentious and irritatingly self-righteous as well. It's good to sate your curiosity on Brando's later work, but otherwise it's a heavyhanded attempt at drama.
Spencer S.
Super Reviewer
A widower hooks up with a young Parisian who is pursued by a man who conflates his art with his personal life. In a career of gritty, realistic performances, Marlon Brando's work in Bernardo Bertolucci's Last Tango in Paris is among his best. The scene in which he confronts his wife's corpse reminded me of Jack Nicholson's "I'd almost marry you if you leave me" from Carnal Knowledge, but Brando's performance comes from a greater, deeper well of self-loathing than Nicholson, who can probably never forget the fact that he's Jack Nicholson; Marlon Brando in his prime -- and this is his prime -- can forget that he's Marlon Brando, and I did too. The rape scene, his myopic view of sex, and his overwhelming screen presence carry this film. His co-star, Maria Schneider, barely keeps up with Brando, and her scenes with Jean-Pierre Leaud aren't nearly as compelling as Brando's; although, Leaud does have a moment that reminded me of his best scene in the Antoine Doinel films. The ending was emotionally compelling but senseless and unmotivated. In fact, the writing of Jeanne's character lacks a thought-out character arc; she remains undeveloped, and that's not all Schneider's fault. Overall, this is a great, gritty, intense drama with some of Brando's best work.
Jim Hunter
Super Reviewer
Last Tango in Paris Quotes
| | |
| --- | --- |
| Jeanne: | Olympia is the personification of domestic virtue - faithful, frugal and racist. |
| | |
| --- | --- |
| Paul: | "Our children will remember." |
| Paul: | Our children will remember. |
| | |
| --- | --- |
| Paul: | Why were you going through my pockets? |
| Jeanne: | To find out who you are. |
| Paul: | To find out who you are |
| Paul: | To find out who you are? |
| Jeanne: | Yes |