The Last Voyage
(1960)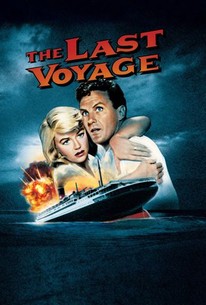 AUDIENCE SCORE
Critic Consensus: No consensus yet.
Movie Info
Robert Stack and Dorothy Malone are Cliff and Laurie Henderson, a married couple on a vacation with their young daughter (Tammy Marihugh), taking their first sea voyage aboard the aging ocean liner Claridon. All is well for them, but not for the ship below decks, where a fire has broken out. The engine room crew, led by Chief Engineer Steven Pringle (Jack Kruschen) and 2nd Engineer Walsh (Edmond O'Brien) extinguish the blaze, but the ship's captain (George Sanders) refuses their request to shut down the boilers and check for further damage. Disaster follows as the boilers explode, taking Pringle with them and blasting a hole through to the upper decks and an opening to the sea that's not only too big to patch but allowing in too much water for the pumps to handle. Still, the Captain won't order the passengers to the lifeboats -- he hopes that the engine room crew under Walsh can hold the bulkhead and keep the ship afloat. Meanwhile, Cliff has to rescue his daughter from their wrecked stateroom, and must do what he can to help Laurie, who is trapped beneath a huge piece of steel bulkhead, while the ship slowly loses its battle with the sea.
Rating:
NR
Genre:
, ,
Directed By:
Written By:
In Theaters:
On DVD:
Runtime:
Studio:
WARNER BROTHERS PICTURES
Critic Reviews for The Last Voyage
All Critics (4) | Fresh (2) | Rotten (2)
It's great on raising the level of tension, and its special effects and unique filming style are also great.

Ozus' World Movie Reviews
A nifty twist on a familiar theme

Audience Reviews for The Last Voyage
½
There is tension in this 55 year old action adventure and it's better than a lot of the other disaster movies to come in later years.
bill secor
I saw this movie when I was a little girl and recently decided to see if I could locate it on DVD. I did and it was just as good as when I originially saw it. Who needs Titanic when you can have real people on a real flooded ship and not on some gigantic backlot?! The premise...a sinking ocean liner, a trapped woman, a loyal husband and a heroic ship hand may be formulaic but it works here. The movie also makes a statement regarding race...the scene where Woody Strode offers to take the little girl and put her on a life boat...well everyone knows you can't trust black men with your white daughter! But this movie rises above that as Robert Stack (at first giving Woody a double take) entrusts his daughter to a stranger and a black man. The camera work is great...as they are leaving the flooding ocean liner (the real deal BTW...Ile de France or something like that...real luxury ocean liner) you can see the camera moving and being splashed with water. The little girl in the movie over-acts except for 2 scenes...the one where she is trapped on a ledge in front of a gaping hole in the ship which requires her to crawl across a plank to the safety of Robert Stack. The second is where Woody Strode is taking her back to the deck away from her mother. She fights him all the way, sobbing. She even holds onto the door. Both great scenes. I give this movie a '10' because it's a 'throw back' to when actors REALLY had to be physically fit to do movies, because of the realism of the danger and because I love old movies that are really good. We are 'special effects' to death today! It thrilled me at 10 and 40+years later, I still enjoyed it!
M W
PRETTY GOOD DISASTER FLICK ABOUT A LUZURY OCEAN LINER SINKING. THE ACTING IS A BIT OVER THE TOP BUT THERE ARE SOME GOOD SPECIAL EFFECTS. IT WAS INTERESTING.
James Higgins
The Last Voyage Quotes
There are no approved quotes yet for this movie.
Discussion Forum
Discuss The Last Voyage on our Movie forum!