Late Fee
(2009)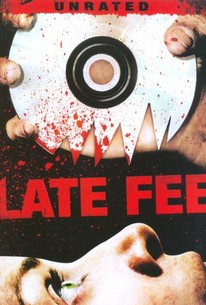 AUDIENCE SCORE
Critic Consensus: No consensus yet.
Movie Info
A young couple in search of the perfect Halloween fright flick discovers that video store late fees can be murder on more than your wallet in this anthology shocker featuring two blood-curdling tales of terror. After imploring a reluctant video store manager to rent them two of his most terrifying horror films, the couple retreats home to munch on some Halloween candy and quake in each other's arms. Continually distracted from their movie watching by eager trick-or-treaters, they eventually realize that it's well past midnight and they've failed to return their DVDs on time. When the owner and his friends coming knocking on their door, the real nightmare begins. The central storyline of Late Fee exists to integrate the short films The Pick Up and Damnation (both 2009) into a full-length feature.
Rating:
NR
Genre:
Directed By:
Written By:
In Theaters:
On DVD:
Runtime:
Studio:
Shriek Show
Critic Reviews for Late Fee
There are no critic reviews yet for Late Fee. Keep checking Rotten Tomatoes for updates!
Audience Reviews for Late Fee
A truly bizarre independent horror film, Late Fee is not the slasher film that its description might suggest. Instead, it is an omnibus film of sorts that features an outer story and two inner tales presented as super-transgressive horror DVDs that the couple in the frame story are watching. From the initial story about renting tapes from the Devil, Late Fee progresses through a Lovecraftian horror tale and a Women-in-Prison/torture-porn tale. Despite looking like the shot-on-video crap that it is, Late Fee is brutal and entertaining despite being a bit idiotic at times, particularly in the frame story.
Al Miller
Late Fee seems to be an homage to horror anthologies like Tales from the Crypt and Tales of Terror. It never takes itself too serious, consciously playing up the camp at every opportunity. That works well enough for the wrapper story and the first video watched by the couple in it, "The Pick Up." It doesn't work out so well for the second movie-in-a-movie, "Damnation," the subject matter of which is just a little too nasty and inhumane to make a good subject for the humor that otherwise keeps Late Fee fun to watch. Late fee's low-budget rough edges show, but it's not too much of a problem since the film wears them like badges in its self-referent consciousness. The people who made this flick know their audience and give them a good-natured ribbing in the wrapper story in which a couple of gorehounds in search of the ultimate horror flick rush wind up crossing a demonic video store clerk on Halloween night. The clerk makes the film's attitude explicit; he breaks the fourth wall, nodding, smiling and winking at the camera as he does his best to overact. The first of the two videos the couple rents, and which we watch with them, is "The Pick Up," a story about a beautiful woman who is a disguised bloody, tentacled demon who advertises her services as a prostitute on the web. She takes her client, a would-be killer, to a cheap motel whose manager is in on her game and plays along for reasons never explained. This story does a good job of combining blood and laughs, particularly when the camera pans over the remaining upper body of a victim as the demoness sings "Half a Man" from the bathroom. The malevolent glee will appeal to horror-lovers even if the story itself has a few big holes in it. The second video we watch with the wisecracking couple is "Damnation," which involves torture, humiliation and the making of a snuff film. There are numerous attempts at humor here, too, but the overall cruelty on which the story centers condemns them to fail. It's far too nasty, and the jokes play out as heaping insult on literal injury. "Damnation" just doesn't work; rape and sexual torture just don't make for humorous situations, particularly when the victim is an innocent. "The Pick Up" gives us an out because the victim is completely unsympathetic; he's getting what he deserves. The kidnapped wife and mother in "Damnation" is simply a victim and the assertion that "everyone is guilty of something" isn't enough to make her otherwise. If you like Tales from the Crypt and Tales from the Darkside, you might well find enough to like in Late Fee to watch it all the way through and appreciate its efforts to poke a bit of fun at grindhouse horror culture. If you're not part of that world, though, knock a full star off this one and stop watching after "The Pick Up," then fast forward through "Damnation: to get to the film's rather silly conclusion. Whether or not you're part of the subculture that Late Fee makes fun of, though, it isn't going to wind up on anybody's "must see" list.
Brian Seitzman
Late Fee has a young couple going into a video store just before it closes on Halloween night, where they beg the owner to let them rent a couple of movies for the evening. The couple pick two "unique" films, The Pick-Up and Damnation, which the owner is hesitant to let them rent, but finally agrees after given them a strict no-tolerance speech on a late fee if the movies aren't returned back by midnight. Laughing off the owner, the couple go home to watch the films, which turns into a small anthology as the viewers also watch the movies. Since this is from the Fever Dreams movie company, the film references are heavy fyi. The Pick-Up (a LOOSE sequel to Fever Dreams' Flesh For the Beast) is about a call girl/succubus from the house from FFTB that goes out on a call to a weird gentleman who is taken to a strange motel for unexpected and gory fun. Damnation (a LOOSE sequel to Fever Dreams' Shadow: Dead Riot) has a regular woman being arrested, tried, and jailed by a crooked cop and judge who run a strange prison where torture, cannibalism, and sexual misconduct are afoot. Damnation runs the longest of the two, but both have an equal amount of overabundant gore (i.e. free abortion, penis castration, etc). The acting in the film is BEYOND bad, and the stories are equally bizarre as the films that inspired them. If you are unfamiliar with Fever Dreams movies, you are wasting your time with watching Late Fee as it will be one giant inside joke you will not get. This is STRICTLY recommended for those who watched AND enjoyed Shadow: Dead Riot and Flesh For the Beast ONLY.
Jason Duron
Discussion Forum
Discuss Late Fee on our Movie forum!