Lathe of Heaven
(2002)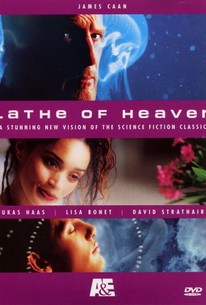 AUDIENCE SCORE
Critic Consensus: No consensus yet.
Movie Info
The Lathe of Heaven was a made-for-cable remake of the 1980 TV movie of the same name, both based upon the futuristic novel by Ursula K. LeGuin. Former child star Lukas Haas is effectively cast as George Orr, an otherwise ordinary man who experiences extraordinary dreams. When the visions in his head begin coming true -- and even seem to be altering reality -- the anguished Orr consults psychiatrist Walter Haber (James Caan), which is the first of many miscalculations on the part of the protagonist. Dr. Haber intends to harness George's "talent" to bring his own peculiar notion of Utopia to full fruition. Will the fabric of the space-time continuum unravel as Haber plots and plans and Orr's dreams become more and more frightening? And how does Orr's extremely skeptical (and ravishingly beautiful) lawyer Heather LaLache (Lisa Bonet) figure into all this? Lathe of Heaven made its A&E cable network bow on September 8, 2002.
Rating:
PG
Genre:
, , ,
Directed By:
In Theaters:
On DVD:
Runtime:
Studio:
New Video
Critic Reviews for Lathe of Heaven
There are no critic reviews yet for Lathe of Heaven. Keep checking Rotten Tomatoes for updates!
Audience Reviews for Lathe of Heaven
½
A perfect example of a movie whose reach exceeded its grasp, this brilliant science fiction story is at times trivialized by its mounting; the shoestring budget is obvious at every turn, and beyond the central plot, concepts introduced are rarely fleshed out, leaving the audience with a very unsatisfactory and bland ending. You're better off reading the book.
Bryan Way
½
As far as I'm concerned, this wasn't a bad movie at all. Kind of weird. The irony was nice, but some of the transition in the story was kinda sketchy. Worth a watch if you're into sci-fi.
James Duke
Alas, I find that the majority of critical sentiment goes agin me, on two counts. This has never stopped me before, however, so I'll just forge ahead.
Up front: Although I'd never read this particular story, I'm a big Le Guin fan from way back.
Count #1: With all due respect to PBS and their great mission, to Ms. Le Guin, and to all the gushing opinions from folks I respect, the original 1980 PBS adaptation of this story, starring Bruce Davison, is not very good at all. With full appreciation for their limited budget and their grand plan, the attempt falls way short of what I'd consider full entertainment value. The acting is, well, not good. And the story is about as chopped up as a south shore swell in the face of hurricane force winds from the north. Argh.
Count #2: This particular adaptation is brilliant; I don't get all the negative criticism. Haas, Caan, and Bonet are very well-suited to their roles, and they work extremely well together. Sheila McCarthy and David Strathairn also provide awesome support playing the embodiment of the dream changed one and the seemingly changed but always cognizantly unchanged one, respectively.
If you must, then watch the first one. Make sure, however, that you watch this one regardless.
Lanning : )
Super Reviewer
Lathe of Heaven Quotes
There are no approved quotes yet for this movie.