Lathe of Heaven
(2002)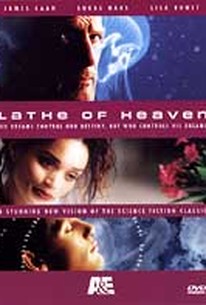 AUDIENCE SCORE
Critic Consensus: No consensus yet.
Movie Info
Rating:
NR
Genre:
Directed By:
On DVD:
Runtime:
Critic Reviews for Lathe of Heaven
All Critics (1) | Fresh (0) | Rotten (1) | DVD (2)


Audience Reviews for Lathe of Heaven
Ursula K. Le Guin is something of an enigma amongst Sci-Fi writers - her books are very successful but very little has been put to film - the Lathe of Heaven is especially unusual amongst her works as it has been filmed twice. This 2002 version is the latest and biggest budget attempt featuring a good cast including the "A"ish list James Caan. Watching the story unfold I am reminded of the similarities between the science of sci-fi and magic of fantasy. I am also left in little doubt that, to writers like Le Guin, sci-fi is simply a medium for exploring issues and philosophies that would be too constrained by the limits of the "real" world. This is a pretty good film version of the book albeit with some major changes and, if you don't mind taking your sci-fi neat, I recommend you give it a try.
The Shrewlord
Super Reviewer
This one misses the mark by a parsec.....the most critical event in LeGuin's book -- Heather Lelache overseeing Orr's session and experiencing his effective dreaming for herself -- is omitted! Who made that terrible decision?? The second worst thing is rearranging the storyline to make us believe Orr is stuck in some kind of time loop. Wrong, wrong, wrong. Did the director even READ the Lathe of Heaven?? Everything is turned round...Orr is ultimately rich, he's anything but a designer/drafter/planner, and according to Manny, he did a stint in prison, too; Lelache ends up as a waitress (not a legal secretary where she was formerly a lawyer); the 'house in the country' is not the humble cabin by the rushing water; people are not gray-skinned; and for heaven's sake -- there are NO ALIENS on the moon or anywhere else. What's wrong with this picture? EVERYTHING..... Lucas Haas does a creditable job with Orr, despite it all, and I liked the Manny character, although that too is distorted in this film. Caan is okay, but needed to be more psycho, more menacing. In the book, Orr is terrified of him. Sorry, Lisa Bonet is just arm candy here. The snappish, shrewish, no-nonsense Heather Lelache was anything but that. Don't bother with this piece of trash...if you have to see a movie, see the original film from the 70s...or better yet, READ THE BOOK. Read it slowly, twice. It's a very subtle, very complex, and intricately woven tale about human nature that works on so many levels. LeGuin is a genius.
Lauren Hart
This movie will put you to sleep. It's bad enough they didn't include one of the more dramatic parts of the novel. I guess they thought it was too sci-fi.
Phil Hodges
Discussion Forum
Discuss Lathe of Heaven on our Movie forum!