Latitude Zero (Atragon II) (Ido zero daisakusen)
(1969)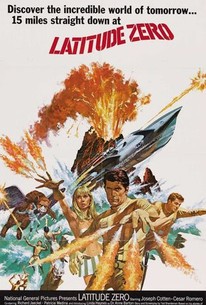 AUDIENCE SCORE
Critic Consensus: No consensus yet.
Latitude Zero (Atragon II) (Ido zero daisakusen) Photos
Movie Info
An unexpected volcanic eruption causes an advanced submarine to take refuge in a secret underwater city in this Japanese sci-fi adventure. There, the submarine's captain discovers and attempts to defeat an evil plot involving kidnapping, brain transplants, and hideous mutant creatures.
Rating:
G
Genre:
, , ,
Directed By:
Written By:
In Theaters:
On DVD:
Runtime:
Studio:
Ambassador Productions
Critic Reviews for Latitude Zero (Atragon II) (Ido zero daisakusen)
All Critics (1) | Fresh (1) | Rotten (0)
Quite a bit of fun, though I wouldn't care to predict how it would play to a viewer whose tolerance for whimsical idiocy is on the low side.

Audience Reviews for Latitude Zero (Atragon II) (Ido zero daisakusen)
Is this a good film; not particularly. Is it entertaining; you bet. While it is the last collaboration of Godzilla's Honda, Tsuburaya, Ifukube, it is filmed in English and stars such talents at Joseph Cotton and Caesar Romero. "Latitude Zero" is a goofy sci-fi adventure film that feels more like a movie serial from 1949 than a feature from 1969. (It was actually based off an old radio serial.) I would call it "campy", but it feels like all involved were playing it as straight as possible. Silly, cheesy, nonsensical, juvenile fare, but oh-so-fun.
Paul Cardullo
Latitude Zero will blow you away. This film will take you places you've never been and show you things you've never dreamed! It's an amazing work with absolutely phenomenal special effects and a highly imaginative script. What other films have super-special submarines, jet packs, giant winged lions, brain transplants, secret organizations, Joseph Cotten, hot female doctors, and mad scientists, not to mention a host of other fantastic ideas, inventions and effects? This film has it all (except a scary sea monster, I would have enjoyed that)! Within the first five minutes you're already deep underwater, and within the first ten minutes one of the most beautiful explosions ever threatens to destroy our three heros! If you enjoy adventure, old special effects, or a bit of campy but imaginative and thoughtful science fiction, you absolutely must track down and watch Latitude Zero!
Caleb McCandless
½
The legendary director Ishiro Honda brings Joseph Cotten (Citizen Kane, The Third Man) with um...Cesar Romero (best known as The Joker from the very kitschy 60's Batman) and Richard Jaeckle (fill in the blank) along with top Japanese special effects man Eiji Tsuburaya together for one of the most high-budgeted, unusual, science fiction/fantasy films ever. The story is sort of a 20,000 Leagues Under The Sea (or Meters in this case) meets The Island of Dr. Moreau. The miniature models and special effects are on par with some of the best Godzilla films, but the monster costumes really leave a lot to be desired. Cesar Romero plays the evil Dr. Malic who, in his leather knee-high boots and cape, is in a constant battle to the death with the flamboyant Captain McKenzie, played by Joseph Cotten who looks as if he just stepped off the set of a Swedish Erotica film. A brilliant scientist, a leather-clad asian henchwoman, gold bikinis and go-go boots, a lion with a human brain and surgically attached vulture wings, man-bats, and so on. The film itself is incredibly juvenile, but the awesome sets are done in a flashy 1960's psychedelic style. The costume designs are also out-of-this-world. A feature thrown off balance by budget cuts during filming and effects man Tsuburaya's failing health during the filming process. Still fun if Toho productions are your thing. They are mine.
El Hombre Invisible
Super Reviewer
Discussion Forum
Discuss Latitude Zero (Atragon II) (Ido zero daisakusen) on our Movie forum!