The Laughing Policeman
(1973)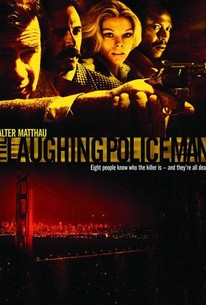 The Laughing Policeman Photos
Movie Info
Cops Walter Matthau and Bruce Dern stalk a serial killer with a lust for bus riders in this thriller also called An Investigation of Murder.
Rating:
R
Genre:
,
Directed By:
Written By:
In Theaters:
On DVD:
Runtime:
Studio:
20th Century Fox Film Corporation
Critic Reviews for The Laughing Policeman
Audience Reviews for The Laughing Policeman
Stuart Rosenberg's solid, tense crime drama based on a Swedish award winning novel by Per Wahloo and Maj Sjowall, the story is transplanted from Stockholm to San Francisco. The late great Walter Matthau delivers one of his most accomplished, detailed performances, as a tough police lieutenant investigating a grisly massacre on board a city bus by a madman, who opened up with a machine gun and murdered eight people. He discovers that his former partner, a detective is one of the victims, Matthau uncovers unsavory things about his ex-partner, and that many of the victims had shady lives, which shrouds the killer's identity even more. But Matthau and his current partner, played superbly by Bruce Dern, are running out of time because the killer is getting ready to attack another city bus. Astute direction by Stuart Rosenberg, fine supporting performances by Louis Gossett Jr, Albert Paulsen, Anthony Zerbe, Anthony Costello, Val Avery, Joanna Cassidy, and Cathy Lee Crosby. Good suspense and plot twists, outstanding cinematography by David M. Walsh. A gritty period piece, and accurate 70's police procedural from the golden age of urban American films. Highly Recommended.
Danny Rovira
Super Reviewer
½
Great SF in the '70s police procedural. Lots of small details to make it human. A little slow and Bruce Dern is purposely obnoxious. All in all, worth watching.
Amanda Peterson
Police procedural based on the Swedish novel reset to San Francisco. I have read the original book, from a series of Detective fiction by Maj Sjowali & Per Whaloo, and some details work others dont (in the book, it is explained easily how the bad guy obtained a machinegun: a leftover WW2 Suomi gun used by anti-Nazi resistance fighters, in the movie, the villian just happens to have one. There is some mumbling about a Korean War era .45 Cal. "Grease Gun" but the one used is a 9mm Smith & Wesson copy of the Danish Madsen 9mm SMG). Some scenes are filmed in the actual real SFPD locations (In fact, the real SFPD SWAT team is used in one scene), such as the Homicide Bureau at the main Police HQ at 850 Bryaant St.; In the film, it accurately, and creepily, refers to the shady still-then-shocking pre-AIDS underground Gay culture, including Male "Go-Go-Dancers" and Beautiful "Lipstick Lesbians', in San Francisco as part of the story, again, something not in the original novel. Great second unit stuff showing location shots of 70's San Francisco (the no longer existing Embarko Freeway, Enrico's on Broadway which was also used in "Bullitt" for the scene with McQueen & "Rat Patrol" actor Justin Tarr; the Mission & 3rd St East Bay Terminal station with the cheap plastic pay mini-televisions and the old Green & white Muni Bus colors are memorable), and the story is interesting enough to make it worth some time with a jug of popcorn for fans of gritty Police Procedurals, just don't expect the action found in "Bullitt" or a "Dirty Harry" yarn, but this one ranks high up there with them as an SFPD set piece whodunnit'. Solid cast, with vets like Anthony Zerbe, and then newcomer and future Oscar winner Louis Gossett. I have never understood the appeal of the nasal-talking Bruce Dern, but he dons the big moustached 70's sexist Cop persona and lets his acting skills take up the slack. Matthau is as expected, excellent. The Babe Quotient is extremely high here, with drop dead-gorgeous bow to the Goddess auburn haired Joanna Cassidy flashing those high cheekbones & big baby blues and is still as fine as frog hairs, unlike the then Blonde beautiful & not well kept now skanishk Cathy Lee Crosby in the mix...The music holds up well also, not coming off as too dated...
Black Snake
The Laughing Policeman Quotes
There are no approved quotes yet for this movie.
Discussion Forum
Discuss The Laughing Policeman on our Movie forum!