Laws of Gravity
(1992)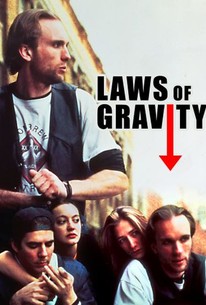 Movie Info
Either loved or hated by the critics, this is the debut film by the 29-year-old writer/director, Nick Gomez. A three-day slice-of-life in Brooklyn done in the cinema verite style, this is a violent movie portraying two ruthless thieves and their friends involved in illegal activities--following them through the urban underbelly as they commit their crimes and are pursued by the police.
Rating:
R
Genre:
Directed By:
In Theaters:
On DVD:
Runtime:
Studio:
Triboro
Critic Reviews for Laws of Gravity
Audience Reviews for Laws of Gravity
½
When 'Laws of Gravity' first came out, I was 13 years old, and I thought it was a documentary. It stuck with me ever since, and as I watch it again years later, only for the second time, it's baffling how such a bad group of actors, could pull off something not only this good, but this realistic. It almost feels like an HBO doc, as you follow these people around. It's a 100 minute movie, that feels like 40, because the time just flies by - and when it ends, it leaves you wondering 'what happened next?' Seriously, I wanna know - what happened next?
Bloodmarsh Krackoon
½
A film about loyalty, friends, and a death spiral. This is the unpolished version of a million gangster/petty criminal films before it. This film is not a traditional one. This is not your mom's Sound of Music movie. [img]http://content.internetvideoarchive.com/content/photos/097/004089_26.jpg[/img] People really talk like this with all this Bronx dialect stuff and snappy patter? What a bunch of jive talkin losers this film presents. You can see the first of a youtube.com installments here: www.youtube.com/watch?v=9QBmArpXy2s The only believable character in this film is the lead one, Jimmy. He knows what is stupid, he is advises his friends of their stupid behavior. He avoids problematic behaviour. He is the best thing about this film. Most of all, he is sober. These petty criminals live together like cockroaches and the men bring home the spoils of thier day to their women who gloat over them. They live like pigs, they talk like pigs, they are pigs. [img]http://s3.amazonaws.com/auteurs_production/images/film/laws-of-gravity/w448/laws-of-gravity.jpg?1294442148[/img] These are my first impressions of this palmcamera movie. The film begs the question, what is so bad about a getting a job that is legal? If you can't get a legal gig, I suppose shoplifting and simple burglery is the only thing left. But my point is this: In great Oscar winning film THE STING, one of the most memorable moments is when Paul Newman reflects on his life of crime. He notes, when criminal activity gets to be like a legal job, its time to get out. And so he runs a merry go round in his old age. The problem is these characters are rebels, nonconformists, people with a real issue with society and the rat race. This film, while beginning interesting, is one series of Bronx chatter and men bossing young women as their fathers have done for decades before them. It is SO repetitive. This is nothing but a series of scenes edited together. Is it realistic? Well, I guess so. But like Hollywood does so well, it is a characature of real life. Besides, if Hollywood made truely realistic films done in real time, it would take an 8 hour film to capture it. This is a good film for fans of low budget cinema. This film would be better titled: My Brother's Keeper [img]http://www.movieposter.com/posters/archive/main/8/A70-4086[/img] REVIEWS: 80% One of the freshest indies of the 1990s, Laws of Gravity offers an ultra-realistic depiction of terrifying nihilism. The characters seem so real that... 80% "Laws of Gravity" is about a bunch of violent, foul-mouthed people whose daily activities consist of shoplifting, drinking, smoking, and getting in fi... Cast Peter Greene - Jimmy Edie Falco - Denise Adam Trese - Jon Arabella Field - Celia Paul Schulze - Frankie Saul Stein - Sal Tony Fernandez - Tommy Larry Meistrich - Pete James Michael McCauley - Kenny (as James McCauley) Rick Groel - Kevin Anibal O. Lleras - Rey (as Anibel Leirras) John Gallagher - Bobby David Troup - Sullivan Miguel Sierra - Vasquez David Tuttle - Ted Directed by Nick Gomez Produced by Bob Gosse Larry Meistrich Written by Nick Gomez Starring Peter Greene Cinematography Jean de Segonzac Editing by Tom McArdle Distributed by RKO Pictures Release date(s) March 21, 1992 (1992-03-21) Running time 100 minutes Country United States Language English [img]http://upload.wikimedia.org/wikipedia/en/thumb/1/1d/Laws_of_Gravity_FilmPoster.jpeg/220px-Laws_of_Gravity_FilmPoster.jpeg[/img]
monsieur rick
"Laws of Gravity" is about a bunch of violent, foul-mouthed people whose daily activities consist of shoplifting, drinking, smoking, and getting in fights with each other. In fact, so many small conversations escalate into full-on brawls that it actually becomes humorous to watch them carry on. Director Nick Gomez does an excellent job of depicting real life in Brooklyn, doing so with long takes and a handheld camera, and both the writing and the acting are top-notch. "Laws of Gravity" isn't about story, but rather about a way of life that most of us are unfamiliar with.
Stephen Earnest
Super Reviewer
Laws of Gravity Quotes
There are no approved quotes yet for this movie.