Le Couple témoin (The Model Couple)
(1977)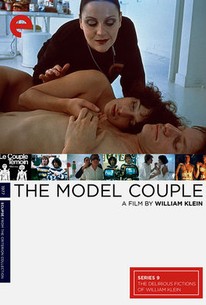 AUDIENCE SCORE
Critic Consensus: No consensus yet.
Movie Info
The French Ministry of the Future announces that it has computer-selected a so-called "average" French couple, Jean-Michel and Claudine (Andre Dussolier and Anemone), and will use what it finds out from them to determine how to manage housing and other government programs in the future. Overnight, they become famous and are subjected to endless questions by government functionaries. Commercial forces interested in using them for marketing research also begin to hound them. The couple is kidnapped just as they begin to rebel against their exploitation. This gives the government just the excuse it needs to drop the whole program, which had begun to develop in some awkward directions.
Rating:
NR
Genre:
,
Directed By:
Written By:
In Theaters:
On DVD:
Runtime:
Studio:
Criterion Collection
Critic Reviews for Le Couple témoin (The Model Couple)
There are no critic reviews yet for Le Couple témoin (The Model Couple). Keep checking Rotten Tomatoes for updates!
Audience Reviews for Le Couple témoin (The Model Couple)
½
Claudine and Jean-Michel have been chosen to be the subjects of what amounts to a reality tv show. They are placed in a white house with reference markings all over it, and allowed to furnish it however they like. Every decision they make is recorded and their emotional levels are measured as they are scientifically studied. Another bit of a mixed bag from William Klein. It's interesting, and its satire of consumerism is well done and at times very funny. The problem here is that everything is just dragged out way too long. I mean, it's basically the same message the entire hour and fourty five minutes. It's the same white room, the same conflicts, the same visuals which at first are interesting but eventually become dull. The whole scene with the Minister could've been cut down by ten minutes or so. All in all, it's worth watching for its moments of brilliance, but it's not nearly consistent or inventive enough to be considered a great film.
Aaron Wittwer
Better than Mr. Freedom, but not great. At least this time we have a satire done with somewhat relatable characters and not cartoons. There are enough amusing moments to keep things moving, and the messages aren't quite so blunt or black & white. It's a fun movie overall, and even rather smart about some things... you could also say it predicts reality TV. But it's funny how often the films get "the future" all wrong. It's always these sterile, plastic environments where everything is the same.
Martin Teller
Best in the box! You heard it here, folks! Overall, the William Klein box set has been fairly disappointing. I suppose Eclipse's mission statement really summed it up very well by saying that their line was for the riskier film viewer and I suppose they are right. This series really represents that. But this is the one movie that I actually enjoyed and really showed off what William Klein was capable if he restrained himself just a bit. I really have to say that he's just restraining himself a bit. This movie, at least on a visual level, is pretty darned bizarre. The entire concept (at least at the time) seemed larger than life. But I do have to give Klein even more credit. This movie really is prophetic with this new era of reality television. The Model Couple already exists in countless forms. I was going to say that there was no grand prize in this one, but they do get paid and are threatened to be cut off if they don't jump through the hoops that the scientists ask. So I guess this is exactly like reality television, only they wear goofy space suits and the room... ...okay. I keep talking myself into the fact that this is exactly like reality television. Anyway, I have to applaud Klein most of all for staying focused. He's always had some kind of comment on society in his movies (and believe me, this one isn't very subtle), but he always gets distratcted by the fact that he sounds like he's preaching on a pulpit. Who are You, Polly Magoo? goes in so many directions just to cover up his preachiness and his desire to be a subversive director that you have no idea what's going on. Mr. Freedom is so over-the-top that he wants to complain about so much in a hip format that the message is lost. This movie (and it is not without its excentricities) is very linear and easy to understand. He finally gets it that it is far more effective to talk to people who can follow your message without being yelled at that it becomes accessible to everyone. It took you a while, William Klein, but you did it. This movie has emotion, fun, comedy, and just a riviting commentary on culture and patriotism that affects everyone. Klein's visuals are up to his normal standard in this one. He does pick some great shots and, in particular, shows this great time lapse scene where the room is decorated. He has very clever and very effective uses of the passage of time and makes you feel slightly trapped by this experiment. Also, switching between the couple and the scientists was particularly creative, illustrating the absurdity of the whole situation. Everyone thinks that he or she is in charge of the world around him or her that it is almost laughable. It's his best movie. Do I think it has problems? Yes. There are lots of things that need to be cleaned up about this film, but it is good and worth watching. The problem is that The Model Couple is far from being an accurate representation of William Klein's work.
Tim Hruszkewycz
Le Couple témoin (The Model Couple) Quotes
There are no approved quotes yet for this movie.
Discussion Forum
Discuss Le Couple témoin (The Model Couple) on our Movie forum!