The Mystery of Picasso
(2000)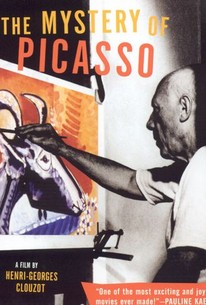 Movie Info
Famed French suspense specialist Henri-Georges Clouzot concentrates upon a real-life enigma in The Mystery of Picasso. While we are treated to several scenes of the legendary Spanish artist at work, explanations of his inspiration are not always forthcoming. As with Pablo Picasso's paintings, this documentary is meant to be experienced, not understood. The in-progress paintings displayed in The Mystery of Picasso were destroyed by the artist after the film was completed, thus this feature-length documentary has in the past forty years assumed the status of "Must See." The brilliant Technicolor cinematography was the handiwork of Jean Renoir's nephew Claude. Mystery of Picasso was released in America by United Artists.
Rating:
PG
Genre:
, , ,
Directed By:
Written By:
In Theaters:
On DVD:
Runtime:
Studio:
Filmsonor Productions
Critic Reviews for The Mystery of Picasso
Audience Reviews for The Mystery of Picasso
½
Fascinating doc that actually shows Picasso working on transparent canvasses. A nice insight into the creative process.
Documentary showing Picasso doing his drawings with a felt-tip pen (or someting like it), encouraged by Claude Renoir (Renoirs grandson no less). A little bit like watching Rolf Harris at work ("Can you guess what it is yet?") but better... after all, it's Picasso. PICASSO!! Bloody fantastic. I was mesmerized.
[center][font=Times New Roman][size=4][img]http://pruebas.amman.cervantes.es/FichasCultura/Imagenes/misterio_picasso.jpg[/img][/size][/font][/center] [font=Times New Roman][size=4]Summary (from IMDB): Using a specially designed transparent 'canvas' to provide an unobstructed view, Picasso creates as the camera rolls. He begins with simple works that take shape after only a single brush stroke. He then progresses to more complex paintings, in which he repeatedly adds and removes elements, transforming the entire scene at will, until at last the work is complete.[/size][/font] [center][img]http://pixhost.eu/avaxhome/avaxhome/2007-06-12/PDVD_013.jpg[/img][/center] [font=Times New Roman][size=4]Perhaps if I knew more about drawing and painting, I would have liked this movie more. Something about watching paintings appear on a screen for over an hour really tested my patience. The Mystery of Picasso literally consisted of a blank canvas where lines and images appeared as if out of nowhere as Picasso created works of art. In the background is a variety of music. Easily the most interesting parts were the very occasional breaks where Picasso and the film crew were filmed and we got to listen in on their conversations. Also, some of the paintings had interesting processes including the way paintings are 'edited', but at 80 minutes, it was way too much. I would have preferred a 30 minute short.[/size][/font]
Chris Weseloh
The Mystery of Picasso Quotes
There are no approved quotes yet for this movie.