Le amiche
(1955)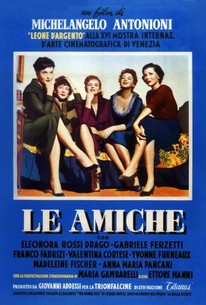 Movie Info
Roman couturier Clelia (Eleonora Rossi-Drago) leaves the big city to work at a boutique in Turin. She moves into a hotel and makes several new friends, but is soon drawn into their extremely unpleasant lives. Clelia enters a doomed relationship with a poor architect's assistant (Ettore Manni), sees her new best friend Rosetta (Madeleine Fischer) commit suicide after being jilted by her married lover (Gabriele Ferzetti), and is eventually fired from her new job when her hysteria over Rosetta's death interferes with her work. Clelia finally goes back to Rome, and viewers will not blame her a bit. Le Amiche, based on a 1949 article published in La Bella Estate ("Tre Donne Sole" by Cesare Pavese), is perhaps Michelangelo Antonioni's first great film. Juggling 10 characters with great aplomb, Antonioni and co-screenwriters Suso Cecchi D'Amico and Alba De Cespedes have created a rich, interlocking narrative which manages to rise above mere melodrama through careful attention to the ebb and flow of interpersonal relationships and a keen sense of balance. The fine supporting cast includes Valentina Cortese, Yvonne Furneaux, and Franco Fabrizi.
Rating:
NR
Genre:
,
Directed By:
In Theaters:
On DVD:
Runtime:
Studio:
Titanus Produzione
Critic Reviews for Le amiche
Audience Reviews for Le amiche
½
Like an Antonioni movie... yeah, I went there. It's actually one of his better ones. It's a character study that is compelling because it raises the stakes of material that in other hands would be just soap opera fodder. There is some of that here, but there's also really strong performances and writing that knocks it far away. And how Antonioni cuts or stages scenes is usually very interesting.
Jack Gattanella
½
Based on Cesare Pavese's novella, this film examines the complex interplay and emotional intensity of relations between a bourgeois group of women. The pervasive cynicism within the novella is concentrated in Momina's character. The film also emphasizes the burgeoning and evolving role of the independent woman. This early work shows the development of Antonioni's unique framing and narration methods, particularly in the beach scene. It's rare to have an ensemble cast deliver such strong performances!
Stefanie C
Super Reviewer
[center][img]http://img528.imageshack.us/img528/9552/amichebannerup7.jpg[/img][/center] (DVD) (First Viewing, 9th Antonioni film) It's rather difficult to gage whether or not [b]Le Amíche[/b] (1955) would be of any real interest if the young Michelangelo Antonioni had not gone on to become [I]Michelangelo Antonioni[/I]… but for an early effort, it's very, very good. It stands out among the director's filmography simply because for once there's much too much—too many characters, too many plotlines to follow, the art direction too cluttered—and it carries its emotions on its sleeve in a way not seen elsewhere in an Antonioni film. The best and most memorable sequence, which depicts a group of bright young things at the beach quickly sinking into a bog of collective boredom and indifference, clearly precedes the ennui of [I]L'Avventura[/I] that revolutionized cinema. One gets the very real sense of a great artist's vision germinating and taking root, and the effect is exhilarating.
Jesse Last
Le amiche Quotes
There are no approved quotes yet for this movie.