The Sorrow and the Pity (Le Chagrin et la Pitié)
(1972)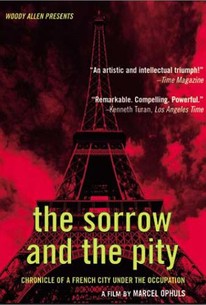 The Sorrow and the Pity (Le Chagrin et la Pitié) Photos
Movie Info
Made for French television, Marcel Ophüls' four-hour-plus documentary explores the average French citizen's memories of the Nazi occupation. Just how large and effective was the fabled resistance movement? Is cooperation the same thing as collaboration? And how did one's up-close-and-personal experiences with the occupation troops impact one's postwar life? These questions are probingly posed (but not all are answered) by Ophüls, who also acts as offscreen interviewer. The first half of the film is a mosaic of sights and sounds from the years 1940-1944: Maurice Chevalier singing for the German troops, clips of propagandistic newsreels, appalling vignettes from the scurrilous anti-Semitic film drama Jew Suss (1940), and the like. Ophüls' interpretation of history as the "process of recollection, in things like choice, selective memory, rationalization" is fully illustrated in the film's long second half, which is devoted almost entirely to interviews, in which the subjects display emotions ranging from mild embarrassment to abrupt rage. ~ Hal Erickson, Rovi
Critic Reviews for The Sorrow and the Pity (Le Chagrin et la Pitié)
Audience Reviews for The Sorrow and the Pity (Le Chagrin et la Pitié)
½
8/20/16 Sundance Doc Club Again a documentary does what no studio film could. A detailed and carefully crafted story about occupation, collaboration and revenge this story told through extensive interviews interspersed with news reel film is so compelling that the 4 hour length flies by. This is an important part of WW ll history that can't be missed.
Nick Ueber
My library's copy was scratched so out of 4 hours and 9 minutes, I only got about 3 hours and 54 minutes. Whatever, it was a little disjointed, but fascinating.
Andy Cramer
I had always thought devotion to this movie was being made fun of in Annie Hall, until I saw it (and it takes a while to see it). The drama is amazing during the second half, with all you know about the characters from the first.
Adam Mahler
Super Reviewer
The Sorrow and the Pity (Le Chagrin et la Pitié) Quotes
There are no approved quotes yet for this movie.
Discussion Forum
Discuss The Sorrow and the Pity (Le Chagrin et la Pitié) on our Movie forum!