Change of Plans (Le Code a Changé)
(2010)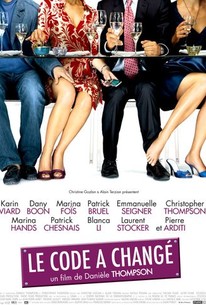 Change of Plans (Le Code a Changé) Photos
Movie Info
CHANGE OF PLANS (LE CODE A CHANGÉ), is a delicious comedy of manners from acclaimed Oscar- and César-nominated writer/director Danièle Thompson (COUSIN COUSINE, LA BÛCHE, JET LAG, AVENUE MONTAIGNE). The film centers around a summer dinner party where ten acquaintances, each attempting to mask their own personal troubles, come together for an evening of food, wine and friendship. It's not long before the couples begin revealing their dissatisfaction with their partners and it becomes obvious that they are planning or having affairs. The all-star ensemble cast includes Dany Boon (MICMACS), Emanuelle Seigner (THE DIVING BELL AND THE BUTTERFLY), Karin Viard (PARIS), and Marina Hands (LADY CHATTERLEY). -- (C) IFC
News & Interviews for Change of Plans (Le Code a Changé)
Critic Reviews for Change of Plans (Le Code a Changé)
Audience Reviews for Change of Plans (Le Code a Changé)
In "Change of Plans," Marie-Laurence(Karin Viard) and her unemployed husband Piotr(Dany Boon) are hosting a dinner party. But Melanie(Marina Fois) calls to say she cannot make it, putting both her patient(Isaballe Cagnat) and Marie-Laurence in an awkward position. So, she invites her flamenco teacher Manuela(Blanca Li) instead. All Melanie wants to do, she thinks, is spend a quiet evening with her husband Alain(Patrick Bruel), an oncologist, but reconsiders, a lot. Sarah(Emmanuelle Seigner) has second thoughts about her dress. Marie-Laurence wishes Jean-Louis(Laurent Stocker) would not come while her sister Juliette(Marina Hands) wishes she had not when she hears her very, very estranged father is set to put in an appearance, leaving her friend Erwann(Patrick Chesnais) only able to talk about the weather. What's most notable about "Change of Plans" is its structure. After the dinner party gets off to a successful start, the movie jumps ahead a year exactly to show how the characters have done, better or worse, in the intervening year while revealing more details about some of the relationships.(If this sounds familiar, then you can credit, blame, and/or curse "Lost.") Otherwise, there is not that much else to distinguish this film except for the setting of the street music festival in Paris(why you would drive then is beyond me), a dancing scene and Melanie's prayers which speak volumes about how the only honesty in modern society occurs behind everybody's back.
Change of Plans (Le Code a Changé) Quotes
There are no approved quotes yet for this movie.