Le Combat dans l'île (Fire and Ice)
(1962)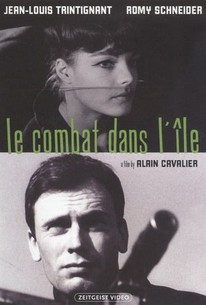 Le Combat dans l'île (Fire and Ice) Photos
Movie Info
In this film, a young man is blinded by the idealism of political extremists. The group he belongs to plans to take control in the Western countries with a series of chaotic diversions. He is slated to help in the assassination of an influential labor leader, but plans quickly change.
Rating:
NR
Genre:
, , ,
Directed By:
Written By:
In Theaters:
On DVD:
Runtime:
Studio:
Nouvelles Editions de Films
Critic Reviews for Le Combat dans l'île (Fire and Ice)
Audience Reviews for Le Combat dans l'île (Fire and Ice)
½
In "Le Combat Dans L'Ile," Anne(Romy Schneider) discovers a package in her closet which contains a bazooka. Afraid of ending up in an episode of "24," she confronts her husband Clement(Jean-Louis Trintignant) who admits to being part of a right wing terrorist cell with his new friend Serge(Pierre Asso). As part of his political awakening, he plans to give up his life of privilege and place at his father's(Jacques Berlioz) company. Plus, there is also the matter of the assassination of Terrasse(Maurice Garrel), a local politician. "Le Combat Dans L'Ile" is an intriguing misstep that starts well but instead of investigating this shadow world further, backs off and becomes just another banal domestic drama. For such an understated drama, the bazooka might seem a bit like overkill but it is probably left over from World War II, like the fascism of Clement and his friends. On a broader note, the movie is about escaping the past and growing up, as Clement in trying to get away from the influence of his dominating father, gets himself in a worse mess than he could have imagined. As one character asks another after a particularly off-the-wall request, "Are you 12?"
½
Pretty black and white suspense film. Good, not great. I think it would have been improved by eliminating the narration. A line in the movie did prompt an interesting idea for a story.
Michael Harbour
Telling me that there was a recently rediscovered lost early 1960s film with Romy Schneider may be the easiest way to get me out of the house on a cold December day. Alain Cavalier's film, Le Combat dans i'ile (horribly retitled for US audiences as Fire and Ice) is a clever, frantic political love story that is making it's way around art houses this year and is worth a watch if only for it's leads played by Schneider, Jean Louis Trinignant (Z, The Conformist) and Henri Serre (Jules and Jim). Cavalier's direction (this, his first film) is that style of the earliest of new wave films, sacrificing continuity at points for emotion and in this case, action. Trintignant's Clement is a brooding, jealous and violent man who carries out the assassination of the a left wing politician. His wife, Anne (Romy Schneider) is an ex-actress who is abused by Clement can only watch the progression of the events in fear or love of her husband. Cnce Clement must go into hiding, Anne become liberated from her marriage in the arms of a publisher friend of Clement's played by Henri Sarre. This betrayal sets up the last third of the film which is as exciting as any scenes of that era. Le Combat dans l'ile is not essential viewing but a sharp piece of film I'm glad is seeing the light of day.
Generoso Fierro