Le Feu follet (A Time to Live and a Time to Die) (The Fire Within)
(1963)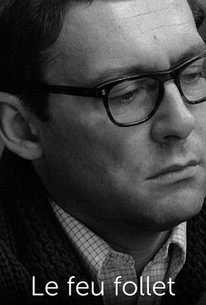 Le Feu follet (A Time to Live and a Time to Die) (The Fire Within) Photos
Movie Info
Maurice Ronet plays an alcoholic writer, Alain Leroy, who is on the verge of suicide (his character is based on writer Jacques Rigaut, who killed himself in 1929). The psychiatrist assigned to Leroy is no help, advising his patient to seek a reconciliation with his wife, who is still smarting from Leroy's recent liaison with Lydia (Lena Skerla). Still obsessed with the notion of taking his own life, Leroy plans to stage his demise on July 23. A last-ditch effort to jolly himself out of his doldrums fails, and Leroy, with a picture of Marilyn Monroe at his side, snuffs himself out. Though a case study of a man victimized by his own isolationism, The Fire Within has some surprising random optimistic moments. The French title for The Fire Within is Le Feu Follet, which was also the title of the novel by Pierre Drieu La Rochelle (another suicide!) from which this film was adapted.
Critic Reviews for Le Feu follet (A Time to Live and a Time to Die) (The Fire Within)
Audience Reviews for Le Feu follet (A Time to Live and a Time to Die) (The Fire Within)
who could leave paris and all those women one has/hasn't fucked? oh the gorgeously shot ennui. extra star for la moreau and her opium den
Stella Dallas
Super Reviewer
½
[font=Century Gothic]Talky and episodic but refreshingly downbeat, "The Fire Within" starts with Alain(Maurice Ronet) staring at Lydia(Lena Skerla) after they have had sex which I am sure has nothing to do with her writing him a check so he can pay off old gambling debts. Alain has been sober for four months and is in a treatment program in Versailles with a wife in New York. He has been in the clinic so long that people are starting to worry about him. Rightfully so, considering that since he has been sober, he has not been able to write anything, becoming obsessed with death and going so far as to contemplate suicide, choosing the following day as the big day, when he also plans to go into Paris to visit old friends.[/font] [font=Century Gothic][/font] [font=Century Gothic]As with most addicts, it seems there is more wrong with Alain than simply his substance of choice which he conveniently blames all of his problems on. In the harsh light of day, his life does not look any better than when he was drinking all of the time.[/font]
A languid, contemplative film about the profound unhappiness of a suicidal man. Louis Malle's direction and Maurice Ronet's understated performance dissuade the film from ever acquiring the tired cliche of romanticized misery. It's a stark, bleak picture with plenty of empathy for the state of its protagonist, but it doesn't shy away from the ugliness of the subject matter or bask in cinematic manipulation. Crisp, fluid photography and a sparse but beautiful score by Erik Satie are so perfectly condusive to the tone of the character's descent, and by the end the poignancy plays itself out naturally rather than forcing itself upon the audience. An instant favorite of mine. Highly recommended.
Le Feu follet (A Time to Live and a Time to Die) (The Fire Within) Quotes
There are no approved quotes yet for this movie.
Discussion Forum
Discuss Le Feu follet (A Time to Live and a Time to Die) (The Fire Within) on our Movie forum!