Le Feu follet (A Time to Live and a Time to Die) (The Fire Within)
(1963)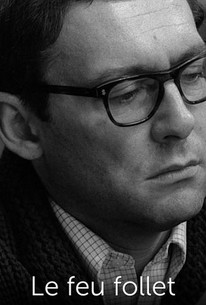 Le Feu follet (A Time to Live and a Time to Die) (The Fire Within) Photos
Movie Info
Maurice Ronet plays an alcoholic writer, Alain Leroy, who is on the verge of suicide (his character is based on writer Jacques Rigaut, who killed himself in 1929). The psychiatrist assigned to Leroy is no help, advising his patient to seek a reconciliation with his wife, who is still smarting from Leroy's recent liaison with Lydia (Lena Skerla). Still obsessed with the notion of taking his own life, Leroy plans to stage his demise on July 23. A last-ditch effort to jolly himself out of his doldrums fails, and Leroy, with a picture of Marilyn Monroe at his side, snuffs himself out. Though a case study of a man victimized by his own isolationism, The Fire Within has some surprising random optimistic moments. The French title for The Fire Within is Le Feu Follet, which was also the title of the novel by Pierre Drieu La Rochelle (another suicide!) from which this film was adapted.
Critic Reviews for Le Feu follet (A Time to Live and a Time to Die) (The Fire Within)
Audience Reviews for Le Feu follet (A Time to Live and a Time to Die) (The Fire Within)
This a brilliant film, one of real substance, but be forewarned - the subject matter is a bit dark, and an air of melancholy pervades it. Maurice Ronet plays a man who we first meet in bed with a lover (Léna Skerla), who knows his wife and works in New York. She drops him back off at a rehab clinic, and we gradually come to understand that he's an alcoholic and his wife has left him. There are some nice moments in the clinic, including a conversation with his doctor (Jean-Paul Moulinot) who believes he is cured and should be released, which Ronet's character actually doesn't want. The film picks up when he makes an excursion to Paris to meet his old friends. Aside from the beautiful street scenes which director Louis Malle captures of Paris, we find out further what this guy was like before his marriage, and why he ended up in a clinic. His friends and acquaintances recount legendary feats of drinking and funny moments such as him once sleeping on the Tomb of the Unknown Soldier thinking he was in his own bed. They also comment on his haggard appearance. The former reveler meets one friend who has settled down and finds meaning in researching ancient Egypt, others who paint and take recreational drugs (including Jeanne Moreau), a pair who are planning their next crime, and his old lover who is now involved with an opinionated bore. It's incredibly poignant to see him no longer connected to those he was so close with earlier in his life, and that's a feeling we can identify with without being suicidal. Ronet delivers a strong performance, playing his part with authenticity. I think in this kind of role it's tough to avoid overacting, either in a melodramatic or cloying way, but he pulls it off. The supporting cast is also outstanding. The most touching moment for me came when Ronet asks his friend to simply accept him as he is. Suicide is presented here in part as an outcome of feeling hopeless, but also as a choice - in this case one made against the alternative, transitioning into the phase of settling down into adulthood and middle age, "growing up" if you will. Ronet's character sees no interest in that, and meeting his old friends doesn't change his outlook. He also knows he can't go backwards, and understands that he will inevitably drink again and cause the same sort of destruction in his life. While morose, there is an intellectual aspect to his perspective and the film in general, and because of that, it doesn't end up wallowing in despair, which is a good thing. With that said, I knocked it down slightly simply because of its darkness.
Antonius Block
Super Reviewer
who could leave paris and all those women one has/hasn't fucked? oh the gorgeously shot ennui. extra star for la moreau and her opium den
Stella Dallas
Super Reviewer
½
[font=Century Gothic]Talky and episodic but refreshingly downbeat, "The Fire Within" starts with Alain(Maurice Ronet) staring at Lydia(Lena Skerla) after they have had sex which I am sure has nothing to do with her writing him a check so he can pay off old gambling debts. Alain has been sober for four months and is in a treatment program in Versailles with a wife in New York. He has been in the clinic so long that people are starting to worry about him. Rightfully so, considering that since he has been sober, he has not been able to write anything, becoming obsessed with death and going so far as to contemplate suicide, choosing the following day as the big day, when he also plans to go into Paris to visit old friends.[/font] [font=Century Gothic][/font] [font=Century Gothic]As with most addicts, it seems there is more wrong with Alain than simply his substance of choice which he conveniently blames all of his problems on. In the harsh light of day, his life does not look any better than when he was drinking all of the time.[/font]
Le Feu follet (A Time to Live and a Time to Die) (The Fire Within) Quotes
There are no approved quotes yet for this movie.