L'Eclisse
(1962)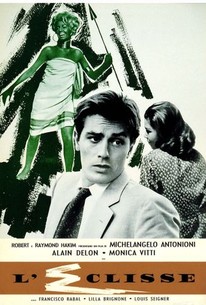 Movie Info
Monica Vitti leaves her much-older lover Francisco Rabal in favor of arrogant young stockbroker Alain Delon. All they have in common is sex, but they make an effort to sustain the relationship on an intellectual level. The action--or lack of it--is played out in the tempestuous Borsa section of Rome. Eclipse (originally L'Eclisse), Antonioni's follow-up to the equally slow-and-steady L'Aventura, La Notte was the winner of the Grand Prize at Cannes. Unlike the other two above-mentioned films, Eclipse hasn't remained in as high esteem as it was once held.
News & Interviews for L'Eclisse
Critic Reviews for L'Eclisse
Audience Reviews for L'Eclisse
It's useless to try to describe it. You just have to watch it. A classic of Italian cinema, about mediocrity, and being lost, and meaninglessness. "Siamo in media". We're in the middle.
½
the bored and the beautiful. stunning film, especially the uncompromising ending. get your existential angst here. i liked this more than l'avventura tho i probably need to watch that one again now...
Stella Dallas
Super Reviewer
The Eclipse
Okay, after reading my flixster buddies' comments about L'Elisse, I feel as if I must apologize in advance for what I'm about to say -- in general.
Yes, I admit it, I jumped into the trilogy with La Notte, which, if you've read my comments, you know I like.
Walter, I did not give up on this one -- I stuck it out. This being said, I'm that much the older, but, I fear, not much the wiser.
Off-topic. Kind of. You be the judge. Has anyone who's actually reading this, having slogged through the above mire, read Haruki Murakami's short story entitled "The Elephant Vanishes"? Well, if not, it's a story about balance, in part, and about proportion, in part, and about mystery, in part, and about individual interest -- again, in part. And it's probably about more, but it's just a wee bit outside of "fresh in my mind." I have a small-sized memory.
When an elephant suddenly disappears into proverbial thin air, what are we to think? I think some of us would think nothing. And for sure some of us would think something. And I truly believe that some of us would explore this phenomenon to the end of time, ala Fox Mulder.
If I'd have come to this third part of Antonioni's trilogy before seeing La Notte, I can pretty much guarantee you that I would not ever have seen La Notte. The personal interest angle would be nil. But since I saw La Notte first -- the middle section of the trilogy -- I decided to check out the hind quarters, as it were, of this particular elephant.
And what did I find? I found something lacking in all proportion to the middle. Something is out of whack with this part three installment. If you are going to do a trilogy -- and I never even saw the first film, as I've already said, so I apologize -- you should look for balance. Trust me, given my wholly biased perceived imbalance between part two and part three, I will not pursue, at my age, watching part one. Time is short, and precious. I actually learned this from watching La Notte. Believe it. Or not.
Anywaysies, as my buddy Allison might say, this particular capstone is shrunkenly lacking, compared to the middle part. No pun intended, this baby is so black-and-white that even the idea of mystery is stripped to the bone like the bleached white skeletons incorporating an elephant graveyard. But I digress.
But . . .
Still, I would go on, but I hope I've already made my point. This one is very disappointing, like the way I feel when I realize that vanishing an elephant is not so simple as digging a time-worthy Shawshankian tunnel under the elephant's cage. It's actually, perhaps, the elegant possibility of warping reality, time, and me -- the reader. But L'Eclisse hardly comes up to, hardly fulfills, that degree of possibility. I'm at the thinking-nothing-about-this-anymore stage, beginning right now as I stop typing. But what do I know? I'm no Fox Mulder. I'm certainly not even the half shadow of a Tia Leone.
Lanning : )
Super Reviewer
L'Eclisse Quotes
| | |
| --- | --- |
| Vittoria: | Why do we ask so many questions? Two people shouldn't know each other too well if they want to fall in love. But, then, maybe they shouldn't fall in love at all. |
Discussion Forum
Discuss L'Eclisse on our Movie forum!