Led Zeppelin DVD
(2003)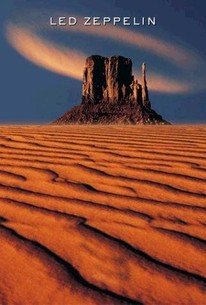 AUDIENCE SCORE
Critic Consensus: No consensus yet.
Critic Reviews for Led Zeppelin DVD
There are no critic reviews yet for Led Zeppelin DVD. Keep checking Rotten Tomatoes for updates!
Audience Reviews for Led Zeppelin DVD
Spanning a decade of footage, this DVD chronicles an exciting concert experience by the legendary rock band and offers up their greatest songs live. Brilliant in the way that they perform, Zeppelin were always at the top of their game and gave one of the most mesmerizing live shows ever. This concert features some of their greatest tracks live, which were recorded over a period of years, and you get a great show that gives you an idea of what it must have been like seeing this band live. With the band playing its classics, Zepp fans will surely come back again and again to see this stunning concert. I've seen my fair share of concert DVDs and I would say that this is one of the finest DVDs of any concert that has been assembled. This show features footage of the band in their heyday, and the footage was damaged and they were able to restore it while retaining the film grain, and hints of a bit of damage, but overall the restoration is great here, and I feel that the few bits of damage adds to the vintage look of the concert, kind of like stepping back in time when music mattered. Led Zeppelin are titans, and they are the real deal. Nowadays, music in general has gone downhill, and no talent "artists" are getting recognized. At least with this DVD, Led Zeppelin's legacy can be rediscovered, and hopefully, it can reach a new generation of future fans that should know what real music sounds like. Led Zeppelin are a timeless rock band, legends in the music world and they crafted some of the finest records ever recorded, this Concert experience brings to your living room, their thrilling and unforgettable live show, and it's a must watch for any music fan that enjoy some outstanding rock music.
½
why is this in the movie database? well anyway i've been watching this for like ten years now and it's so great and massive that it never gets old. extremely well-curated dvd production that has aged well in the time of high definition transfers and writes the book on definitive live musical statements on home video. they really went all out here with the archival stuff and we all have our nitpicky complaints regarding MORE concert footage but come on besides stop making sense this is the best document of a live band ever released. the 1970 royal albert hall show is my favorite. material from the first two zeppelin albums are stretched and mutated, jammed to exhaustion with incredible results. pure magic. this is also by far the best filmed show out of the three main performances in the dvd. bonzo's drums in particular sound heavy and devastating. also in the first disc are some interestingly awkward tv appearances and a killer fucking live set for some denmark radio station. you can tell the teenage audience wasn't prepared for what they were about to see and it's a great intimate performance. disc 2 has good outtakes from the song remains the same film (with a great rendition of "since i've been loving you") but earl's court 1975 brings it to another level. there's a terrific acoustic set here highlighted by "that's the way" and then an insane electric set that captures the band at what's most likely their peak as a live band. it's a high energy performance where the band's almost telephatic interplay is displayed in their machine-like potency. the knebworth performances were shows that were retroactively panned by the group but these came out much better than i thought. they look like old ass out of place dudes past their prime but they still sound pretty good considering it's pretty much the end. i think a lot of this stuff is hampered with the less than stellar material from their last two albums (although "achilles last stand" still rips in this performance).
Lester Yabut
I wish I could rate this 10 stars instead of just 5. This IS the holy grail of live concerts. Five and a half of the best hours spent listening to music, ever!
Tim Salmons
Super Reviewer
Led Zeppelin DVD Quotes
There are no approved quotes yet for this movie.
Discussion Forum
Discuss Led Zeppelin DVD on our Movie forum!