Left Behind: The Movie
(2001)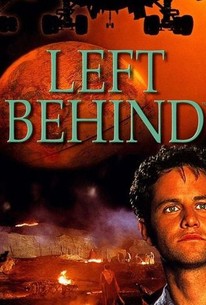 Left Behind: The Movie Videos
Left Behind: The Movie Photos
Movie Info
In the Holy Bible, the Book of Revelations speaks of an event called "The Rapture," in which it is believed God will call those who have been saved to Heaven, while those who have not repented their sins will remain on Earth. Authors Tim LaHaye and Jerry B. Jenkins have written a series of novels based upon the premise of how the Rapture would affect ordinary people in the modern world, and Left Behind is the first feature film to be adapted from their work. Rayford Steele (Brad Johnson) is an airline pilot whose relationship with his wife has gone sour; she responds by devoting more of her time and energy to the church, while he ponders having an affair with an attractive flight attendant, Hattie Durham (Chelsea Noble). In the midst of a flight to London, a number of their passengers mysteriously disappear, and chaos takes hold as a number of vehicles on the ground and in the air are suddenly unmanned. Meanwhile, Buck Williams (Kirk Cameron), a television journalist, is pondering the rash of sudden disappearances as he works on a report about Dr. Chaim Rosenzweig (Colin Fox), an Israeli scientist who has devised a formula that would make any soil on earth easy to cultivate. However, Cameron wonders if there's more to Rosenzweig than he first imagined when he discovers the doctor is in cahoots with two multi-millionaires who plan to broker the invention to promote their own agenda of international domination. Produced by Cloud Ten Productions, a Christian filmmaking concern, Left Behind was released with an unusual marketing strategy -- the film was made available on home video in October 2000, with a theatrical release scheduled to follow in February 2001.
Critic Reviews for Left Behind: The Movie
Audience Reviews for Left Behind: The Movie
½
"Left Behind" is a film adaptation of the amazing Christian book series. This imagining of the Rapture and the second-coming of Christ vividly brings the Biblical prophecies into a real-world perspective. And it does it much better than the 2014 attempt. The fact that they tell an actual story puts this far above the universally panned Nicholas Cage reboot. In that version, they literally wrote the antagonist out of the story! You could watch the two movies back to back and think that they were completely different stories. And you would decide that this one is much better, so just skip the reboot. The acting and special effects in a low-budget Christian film will never live up to that of a mainstream theatrical release, but this film is certainly better than a made-for-tv movie. Kirk Cameron is the only actor of any notoriety amongst this bunch, but they all hold their own with actors from "real" movies. The writers pour on the Christian testimony pretty strong at one point, but the entire story revolves around it so it didn't seem out of place. A bit overdramatic, but not out of place. In spite of its low-budget, independent feel, I have no issue recommending "Left Behind" if you are interested in getting a glimpse of how the Rapture may unfold some day.
Jonny Priano
Not terrible, but obviously very flawed and the acting isn't the greatest.
Dan Schultz
Super Reviewer
½
I haven't ever read any of the Left Behind books, but I've heard a lot about them. I got to watch the movie, and it's not the best religious-type movie I've ever seen, but it's not bad. Kirk Cameron stars as one of the people who have been 'left behind' after the revelation. A lot of people start mysteriously disappearing and a bunch of people are trying to figure out why. The people who have been left behind have to find a way to find out what has happened and then try to change themselves in order to have a chance to make it after the 7 year tribulation without getting involved in the anti-christ's plan to take over the world. I thought "Left Behind" was a good movie. The only thing I didn't like about it was that I thought it ended all of a sudden without getting enough of the story in. Other than that, this movie has a lot of meaning to it and I recommend anybody to watch it, especially if you've been reading the series of books. If you don't get a chance to see the movie now, it's supposed to be coming to theatres sometime in early 2001. NOTE: That was my Amazon review from the year 2000.
Jason Owens
Super Reviewer
Left Behind: The Movie Quotes
Discussion Forum
Discuss Left Behind: The Movie on our Movie forum!